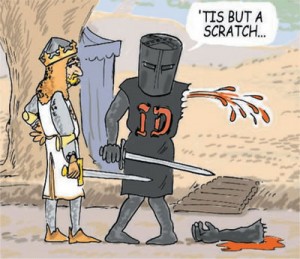 As speculative fiction writers, we often find ourselves doing a lot of research. Much of that research goes into worldbuilding, pulling from this or that culture, borrowing this or that religious ritual. Every nation in my own world has roots in more than one ancient culture from our past, just enough familiarity to give the reader a solid frame of reference. And while everyone pretty much knows where to go to do that particular kind of research, I've come across a couple books recently that have helped me tremendously with the authenticity of other areas of my writing.
I write Epic/Heroic Fantasy of an adult nature.  It's violent.  It's bloody.  People get hurt, injured, maimed, disfigured, etc. Unfortunately – or fortunately, depending on how you look at it – I don't get to observe people who have been injured on a daily basis. Aside from TV and pictures, I've only seen one dead body outside of a funeral home in my entire life, but I want my books to feel real. I want the injuries that occur to feel real, the consequences to feel real.
Recently, a friend of mine gave me a copy of Body Trauma: A Writer's Guide to Wounds and Injuries by David W. Page, M.D. While the book does spend a good amount of time dealing with injuries caused by modern weapons, much of the information can be applied to ancient warfare. The chapter on abdominal trauma alone is worth the price of the book. I mean seriously, how many people will I run through with swords in my writing career? Probably one or two. There's a chapter dealing with injuries to just about every body part with special chapters dealing with impalement, amputation, bug bites, frostbite and much much more. It's a must have for any writer planning on hurting one of his characters.
Another book I've turned to on a number of occasions is Greek Fire, Poison Arrows, and Scorpion Bombs: Biological and Chemical Warfare in the Ancient World by Adrienne Mayor. I originally bought it as a research book for a huge siege set piece I have planned for a future book, but I've used it two other times to come up with devious methods of attack. It has information on everything from ancient flamethrowers to poison gases to incendiary bombs. Nothing pleasant, but all pleasantly helpful to anyone writing violent fiction.
And on a less "violent" note, I thought I'd bring up a book that some might never think to read if they're interested in writing speculative fiction.  Robert McKee is a name widely known in Hollywood, but maybe not so much in the SFF community. He's a screenwriter of some renown, and his book Story is one that anyone interested in telling stories should read. While it claims to be a book on screenwriting – and was indeed the required text for one of my classes in film school – it is so much more. McKee breaks storytelling down into the most basic elements, providing examples and showing how and why some elements work and others do not. I try to read Story at least once every 2-3 years. Not only is it educational, it is inspirational.
I hope these book recommendations prove helpful to someone out there. If anyone has any other books of this nature that they use regularly, feel free to post them in the comments section. I for one am always looking to expand my research library.