A guest post by Mignon Fogarty
Twitter, Facebook, and Google+ can be great tools for marketing your book, but you can also look like a tool if you make these common mistakes:
Don't Jump in Without Exploring
Don't join a network and immediately start posting. Take a couple of weeks to poke around, watch the experts, and see how things work. Every network has its own quirks.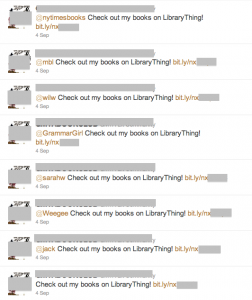 In general, your goal should be to make friends genuinely. Answer people's questions. Respond to their posts. Build relationships so people begin to recognize your name. If the first post I see from you is promoting your book, all I will remember when I see your name again is that you only care about promoting yourself.
Don't Send Direct Messages to People You Don't Know
Unless you have an exceptionally good reason, don't send a direct message to someone you don't know. You don't need to thank people for following you, you shouldn't send them an "introduction" link to your site, and for God's sake, don't ask them to check out your book or like your fan page.
What does it mean to know someone on social media? If I see your message and feel happy to hear from you, we know each other. If I see your message and wonder who you are, we don't know each other.
Don't Promote Your Book Without Giving People a Reason to Care
If you're asking people on social media to take action (e.g., review your book, like your fan page), give them a reason. There are at least two reasons people will care:
1) Make it worth their while. Have a contest or give away a prize. A prize can have cash value (e.g., an e-reader), be something only you can provide (e.g., a personal thank-you video, a 30-minute critique, naming rights to a character in your book), or simply the glory of winning a contest of skill (e.g., a limerick contest).
2) Let them share your journey. Kickstarter works because contributors feel like they are helping you-joining you-on your journey. You can apply the same techniques to social media promotion.
To bolster people's participatory feelings, you need to explain your purpose. In the book, Yes! 50 Scientifically Proven Ways to Be Persuasive, the authors explain that if you follow a request with a "because clause"-a reason you are making the request-people are more likely to comply. If you want people to review your book because good reviews increase online purchases, tell them that's why you want the reviews. If you want people to buy your book this week because it will help you make the bestseller list, tell them that's why it's important this week.
It's also helpful to give updates. Once you've made people aware of your goal, tell them how it's going. Don't go crazy and update Twitter every ten minutes, but when you've reached a significant milestone, announce it.
In the end, it's simple: nobody likes the new guy who shows up at a party and immediately starts hustling everyone to buy his product; but if an old friend has an exciting new project he's eager to tell you about, you're happy to listen and help. Social media is the same. Become the old friend.