by Patrick Swenson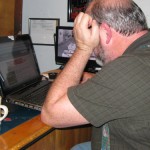 Writers crave free time. Quiet time. Down time. They live for uninterrupted, intense pockets of time when they don't have to do anything but write.
They need to get away from their homes, their jobs, their families, and have writing time free from their stressful life situations.
In the fall of 1982, I interviewed for my first teaching job out at a place I had barely even heard of: Lake Quinault, Washington, nestled in the Olympic Rainforest. I was a music education teacher, but I was also prepared for some English classes. I taught all levels of band, choir, and grade school music, as well as sophomore speech and Title I reading. I also coached JV girls basketball and boys and girls track. No more than 350 kids went to this school, grades K-12. (Now, post-timber industry, the student population is closer to 190).
It rains 144 inches a year in Quinault. I've often joked that as far as starting out as a teacher there, Quinault was a good place for me to get my feet wet. Long story short, the secretary of the superintendent was married to one of three brothers who owned a resort on the lake that boasted quaint cabins and a simple motel, all with breathtaking views of the lake. The Rain Forest Resort Village has no phones in the rooms or cabins, and, even now, little to no cell phone service. It is its own little village, with a restaurant, general store, gift shop, lounge, post office, and laundromat on site.
I taught in Quinault three years, and during the summers I worked for the resort, mostly at the reservation desk and the general store. After moving away from Quinault to teach in the Seattle area, I went back a few summers to help them out. Except for the summer of 1986, when I attended the six-week Clarion West Writers Workshop, and truly cemented my love and desire to be a writer.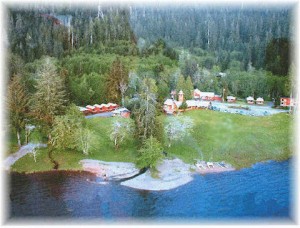 I had a standing invitation from the resort owners, who had become good friends: "Any time you want to stay longer, Patrick, let us know." I eventually took them up on it. I left my teaching job and moved out to Quinault, living in some rooms above the general store, working for minimum wage and room and board, and hoping to get a whole bunch of writing done. Yes, it rains a lot in Quinault, but oftentimes it is sunny and beautiful. Even the rain-soaked days have a charm and peacefulness that soothes the soul. What a great place to write!
I stayed there for almost two years before going back to teaching, but my heart never quite left Quinault. A part of it, although slightly rusty, ached for the moss-covered trees, the pristine lake, and the idea of being far away from the maddening crowd. (Well, except during the summers when the tourists flocked to the resort.) From October through early spring, however, the serenity lent itself well to relaxing, and writing.
What if I could arrange a few days at Quinault during this quiet time and get some writers out there to give them a chance to feel what I used to feel? That was the impetus for the Rainforest Resort Village, a writers retreat I've put on there now for six years. The resort owners were with me from the start on this. In early March, during their off-season, the resort might have five or six rooms rented for the night. It would be a win-win for all involved if writers filled up their resort during this time.
In 2006, 30 writers kicked off the first retreat. This past March, 76 writers attended during two back-to-back retreat sessions.
The idea was to create at least one time and place in the year where all but writing was put aside. To borrow from my own words on the Rainforest retreat website, the objective was to create an annual writers' gathering that focused on solitary and community writing, in an isolated environment, supported by a collective of contemporaries of like mind and pursuits.
Writers now gather yearly at this Quinault location ready to spend an intensive four plus days on their own work, with others involved in the same who are present for support and interactive development of written creative work as art, craft, and science. Balanced against this is a schedule of events aimed at supporting this process, with the number of retreat guests and attendees kept to a limit. Local populations are small and centers of civilization are approximately 50 miles from the resort; close enough for those who wish to seek them out, and far enough for others not to have to seek escape from them. They get professional advice from, and interaction with, guests who have had success in the writing business.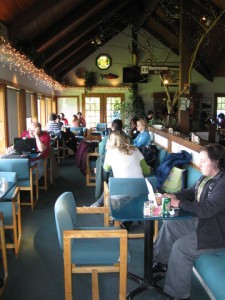 Doing the Rainforest retreat, I've been blessed to have met so many amazing people, so many talented and dedicated writers. I see beginning, intermediate and accomplished writers at the same retreat, all immersed in an art form they love. It's really a heady experience. For the first retreat, I had this idea that writers would simply plug away at their stories and novels in their rooms and cabins, then come out to writing discussions and group meals, but on that first morning, I walked into the now-famous resort lounge, and I found 20 writers sitting at the small tables.
I stood there in the doorway stunned. Laptop keys clicked. Some writers had headphones on. Some typed furiously. Some were lost in thought. Some gazed out the big picture windows, taking in the misty lake and the pouring rain.
It was quiet. It was inspiring. Tears filled my eyes. What could I do to possibly top this moment?
I found an open table, set up my laptop, and began to write.
Patrick Swenson, Publisher
FAIRWOOD PRESS
The Best in Science Fiction and Fantasy
http://www.fairwoodpress.com/
www.rainforestwritersvillage.com