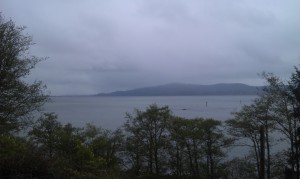 Last week, I completed an extremely successful Burst Writing retreat.  I wrote 50,000 words in five days, even though I lost almost 8 hours to travel each on Days 1 and 5.
I've spoken of Burst Writing before.  I define it as an intensely focused period of time in which to write significantly higher word count than normal.  This is not free-writing time with throw-away word count.  A successful Burst Writing session takes a lot of preparation and produces well-crafted, effective scenes.
Most important is to know what you're going to write before you sit down to pound away at the keyboard.  There's little time for blank staring out the window.   For me, that meant scheduling the retreat only after several weeks of focused effort to develop the story fundamentals and outline the scenes I would be writing.
Last year, the first time I tried Burst Writing, I managed 50,000 words in 7 days, and finished half of that book.  I'm now currently planning the third revision of that novel.
My goal is to eventually prepare well enough to where I can crank out huge sections of a clearly defined story that won't need multiple major revisions afterward.
Last week, I wrote about 35% of a new novel.  I believe I did a better job defining exactly what each scene needed to include from a plot and characterization perspective.  We'll see how that holds up once I complete the book.
I get a kick out of tracking stats.  So, here are the stats for last week's trip:
Day 1:  8 hours travel time.  1.5 hours writing time.  New word count:  2700
Day 2:  10 hours writing time.  New word count:  13,500
(Day 2, evening, couldn't sleep.  Wrote another 1800 words in the middle of the night)
Day 3:  6 hours writing time.  New word count:  12,000
Day 4:  10 hours writing time.  New word count:  15,000
Day 5:  3 hours writing time.  New word count:  5,000.  Travel time:  7 hours
As you can see, I started slow, but once I got in 'the zone', I cranked out far more words each day, as high as about 2,000 words per hour, which is twice what I can normally produce.
So, what did I do to prepare?
1. Outline.  I spent a great deal of time working out the characters and plot of the novel.  I had some advantages in this book over the last one because this is a sequel to another novel, so the world and many of the characters are already very well defined.  Even so, I had to wrestle with some difficult plot issues in the second half of the novel that required changes to the first half to resolve.  If I'd started writing chapters before I had the plan complete, my productivity would have screeched to a halt, and I would have been forced to throw away a lot of good work.
2. Find the right writing retreat.  This year, I found the Colonyhouse, owned by the Oregon Writer's Colony.  Signing up to be a member was inexpensive, and the house was exactly what I needed.  It was comfortable, located within driving distance, with a beautiful location (about 100 yards from the ocean).  I experimented with several different locations in the house and settled on a layout that was comfortable for writing long periods of time.
3.  Set lofty goals.  I honestly did not believe I would hit 50,000 words.  I wrote 12,000 words on my best day in last year's retreat, so this year's goal was a stretch.  I hadn't really factored in the travel time correctly, so when I arrived I realized I was way behind right on day 1.  By staying focused on the goal, and motivated to reach it, I produced far more than I would have otherwise.
4.  Set the right duration.  Five days turned out to be an excellent length.  Last year I took seven, which was honestly a little too long.  I found that the four days in the middle of the trip were the most productive.  This year, I had been planning a three day trip, and managed to squeeze in the other two at the last minute.  I'm glad I did.
5.  Reduce distractions.  I did walk the beach a few times when I needed a break, but other than that, I did very little but write.  On the drive out to the house I stopped and purchased all the food I would need for the week so I could pretty much lock myself away and not get distracted shopping or running errands.  Once I got in 'the zone', I was able to stay there for a long time, which is so much more productive.
And, as always, I learned a few lessons about what to do better next time:
1.  Bring spare batteries.  I learned last year that having a full size, comfortable keyboard is key to cranking out high word counts for me.  This year, I brought my cordless keyboard and mouse.  And of course, on Day 2, the batteries died.  I did not have spares, so I wasted an hour running out to the store to get some (the only excursion I took other than walking to the beach).
2. Sleep.  One of the biggest challenges for me when I'm away from home is sleeping.  I just don't sleep well.  I know I have this problem, but I forgot to bring any kind of sleep aid.  As a result, I did not sleep well most of the week, and returned home very tired.  I did bring some movies to watch in the evenings when I needed to unwind, and that did help.
3.  Have the first chapter or two already complete.  I started the retreat on chapter 1 of a new book.  The first chapter is always the hardest, and I wasted a bunch of time trying to set the tone, description, and locking in the characters in the setting.  Luckily, I spent a lot of time on the drive up the coast working some of this out in my head so the writing time wasn't an entire waste.  However, by the time I hit chapter 3, I had things flowing well, and I could just roll forward at full speed.  Next time, I'll try to get the first couple chapters complete ahead of time.
I'll be writing a series of blog posts on my web site www.frankmorin.org, discussing each day in more detail, for those who want to know more specifics.
What have you found helps boost your productivity at home or during a writing retreat?