Hello, neighbor. It's so nice to see you again. I heard you're thinking about dipping your toes in the indie end of the publishing pool. Well then, come away with me to a world of wonder, where authors can do anything they wish and even make a little money at it (but sorry, you're not getting laid-that's only for rockstars, CEO types, and firemen).
Right. Onward. Resources … resources are very good. They help you do stuff. You want resources. So then, knowledge … leads to power. Power. You like power! Yes you do. That's why you'll want to do some reading, follow some blogs. Otherwise you'll fail, and failure is, like, really bad. So start with these, because the world of indie publishing changes at lightning speed. You'll always need to stay on top of what's happening (and be wary of any e-book on the subject that's more than a day old).
The Writer's Café at Kindleboards. It's a jungle over there, but if you're looking for current discussions, be there now.
Lindsay Buroker. Lindsay is quietly conquering the world. The best part? She shares all of her secrets.
David Gaughran. This one is quite the hub. Keep it on your radar. Btw, David actually wrote a better version of this very blog post.
Kristine Kathrine Rusch's The Business Rusch. Good stuff.
Victorine Lieske's "Why Isn't My Book Selling?" Vicki is one of the classiest humans around, and you can learn a lot from this blog.
The Passive Voice. Smart people read this. You're smart. You should read this.
Dean Wesley Smith. After reading his blog and his great series of posts on killing the sacred cows of publishing, I met Dean at the recent Superstars Writing Seminar. He was cool.
Robin Sullivan. Her postings have slowed down lately, but she has a righteous blog.
Joe Konrath, poking bears in the eye with badass style.
Elle Casey recommends YA Indie, a blog run by some indie YA authors. Looks good.
World Literary Café. I'm not familiar with it, but Melissa Douthit says "WLC is good for connecting authors to readers and vice versa. If you're new, it helps to get your books up off the ground." So yeah. That's good. Another one that some people like for this sort of thing is Wattpad.
Looking for something else? A particular service, maybe? Jennifer Powell has a nice list of resources for self-publishers. As does Katie Salidas. And here's a crapton of useful links for indie authors, from kindleboards.
Next, neighbor, we will discuss philosophy. Writer's write. So, write. Moving on …
Some basic advice:
Make sure your work is ready. Don't be stupid. Everyone thinks their writing is great. Make sure you can find some total strangers who think your work is the bomb before uploading to Amazon.
The most common regret indies have is that they didn't hire a good editor. Hire a good editor. Also, copyediting and proofreading are kind of important. Ask around, ask for referrals, and get an editing sample before you splurge and spend big bucks on a crappy editor. They're definitely out there. Don't pay for crap.
Joshua Essoe, one of my editors and a fellow Fictorian, isn't crap.
If you're writing science fiction or fantasy and you want to sell books, don't even think about not writing a series. This also goes for any genre where series are a big deal.
A good book cover has two ingredients: art and typography. Lots of indies have great art and awful typography. If you don't have the skillz, spend some money on typography. Find someone who knows what they are doing and pay them to make the lettering on your cover look professional (Don't worry. I won't tell anyone your secret).
If you're the shy type …
You don't necessarily have to do social media, you don't have to have a platform, and you don't have to do a ton of marketing. BUT, if this is going to be your path (the path of the shy gal/guy), you've got to write really frickin' fast. Like, a lot of fast. And pick a big, hungry audience (for example, romance or thrillers), and know exactly what that audience wants, and then get up early every morning and make those readers their  frickin' donuts. Serve up their donuts. You are going to be a slave to all of those hungry readers and you're going to consistently give them what they want. Worship the readers, serve the readers, and you'll do just fine. Yep, it's a lot like a job. Disclaimer: I'm still working on this part.
If you're the social type …
Set writing goals, stick to schedules, and make the writing the number bleeping one (#1) priority. Put your game face on. No smiling! Eye of the Tiger. It's business time.
Thanks for going on this little trip with me. Just remember, the most important thing is to have fun and enjoy the journey. Don't get too caught up with numbers. Live from your heart. And listen to Mr. Rogers …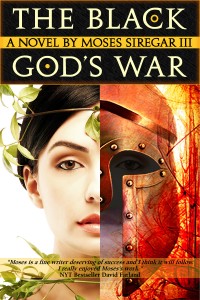 Moses Siregar III is the author of The Black God's War. It's okay.