Nancy:  Welcome back to The Fictorian's Publishing Month. Colette and I wanted to talk a little about our experience with the Women Writing the Weird (WWTW) anthology published by Doghorn Publishing since participating in an anthology is a bit different than other forms of publication. So, Colette, what did you think about the opportunity to participate in an anthology?
Colette: I was thrilled when you told me about the upcoming anthology, in part because of the publishing opportunity, and in part because it consisted entirely of women speculative fiction writers. I was excited about that opportunity. I've always meant to ask, how did you find out about it in the first place?
Nancy: Accidental networking. Seriously though, I met the editor, Deb Hoag, through an online writing group. Deb approached her publisher – Doghorn – and asked if she could put together an anthology of genre defying stories by women writers. When she got the go ahead, she contacted a group of writers she wanted to work with. Fortunately, I was in that group. Deb later opened submissions up and I sent an e-mail to the Superstars Writing Seminar group to see if anyone had a story that might work. When you said you thought you just might have a story if Deb was willing to accept previously published works, I put the two of you in contact.
Colette: Even though my story, Beneath the Skin, was published in SNM Horror magazine under the title, Becoming, it seemed like the best of my current stories for an anthology called Women Writing the Weird. A were-beetle burrowing into your leg with nefarious purposes fits weird. I was very flattered that despite it being a reprint and one of my earlier stories, Deb still accepted it. Of course, it's definitely a different tone than a guy in a monkey suit.
Nancy: Yea. The Gorilla in the Phone Booth was definitely very different than your story. The idea for the story came out of a Writing Excuses episode where they were talking about the promises we make to our readers. Howard Taylor mentioned that if you put a gorilla in a phone booth you'd better have darned good reason for it. So I spent the weekend figuring out why. I came up with a twist on the genie story and some land selkies. One of the fun things about WWTW is the stories cross a lot of genre lines and, at least one of the stories, defies classification (in a good way) in my mind.
Oh, and because Colette's too modest to mention it, I should tell you that Beneath the Skin got a really wonderful review at http://www.kathulhu.com/2011/11/women-writing-weird.html
Beneath The Skin, by C.M. Vernon gives a different twist to the were-creature tale and I think this story would make a great movie. I also couldn't help but think of Kafka's Metamorphosis while I was reading it.
You have to love being compared to Kafka.
I won't put Colete on the spot and ask her about the review. But I will ask her about her thoughts on this publishing experience. So . . . ?
Colette: I thought it was amazing that even though the book didn't come out in hardcopy until last month, you put together a book promo at World Fantasy Convention in October, 2011. I couldn't believe what a great job you did with posters, flyers, food…the whole deal.
Nancy: Thanks. Putting together the book launch was a lot of fun and a bit nerve wracking. World Fantasy is a huge writer's and agent's convention. Tor hosted a huge party in the suite we used later that evening. For the book launch, Doghorn printed a small number of the book so we could promote it at World Fantasy. Adam Lowe (the head editor at Doghorn) sent me the artwork so I could make the posters, postcards and flyers. I'm not sure the postcards were effective swag, so I probably won't use them as promotional items again.
We were also lucky enough to get a lunch-time slot to promote. There were no competing lectures. We were also next to the hospitality suite, and when it ran out of food, they directed people to us because we had food. We probably had an extra thirty people drop in because of the food. And they stayed for the readings.
Of course, the book launch wouldn't have been as successful if I hadn't sweet talked you into helping. Your reading was great.
Colette: I've read in public before, but never my own piece. I was so nervous, but once I started, I have no idea if I did a good job, but I loved it. I would love to be an author who does presentations in schools, book readings, signings, the whole deal.  I look forward to that part of publishing. Speaking of which, it seemed rather odd that you had the book in October, but it didn't come out in bookstores until May. I haven't heard much buzz on it, either, but I haven't been in this business long enough to know if that's just normal.
Nancy: The book's been available at the publisher's website since October, but for some reason the general release was delayed until May, 2012. I'm not sure why Doghorn decided to stagger the release or if the delayed release was just part of its agreements with Amazon and Lulu. Amazon's currently out of stock on it as well.
I know with the two short story collections I've published through Musa Publishing (yes, I had to get them into this post) , Paths Less Traveled and Shots at Redemption, Amazon had the book within hours of it going on the Musa site. But then, the Musa collections are e-books and that might make a difference.
Colette: I have no idea if the book will do well from this point on, but it's been a fun ride, don't you think? I wish I had researched the anthology a little better before I jumped on board,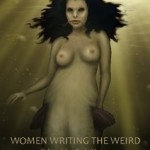 not because it isn't top quality, because it is, but I'm afraid that my participation in a book fondly called by our friends, "the booby book," is a bit of a misrepresentation of my name as a brand.  I don't write erotica, and the beautiful cover suggests there's a fair amount of content in that category. That's something I'll pay more attention to in the future, so I don't confuse any readers as to what they might expect from my writing.
Nancy:  Ah, yes, our cover. One of the things you often can't control as a writer – what your cover looks like. Coming up with a cover that captures the scope of the anthology would have been tough, and I understand the decision to base the cover on the short story by the best known writer.  But I've had web designers decline my job and promotion sites decline the listing because the catfish girl on the cover has very prominent and very naked breasts.  And don't get me started on telling my folks about the anthology. The artwork is gorgeous but, in accurately rendering the light coming from above, the artist placed a lot of emphasis on the breasts. It wouldn't have been my choice of a cover if we'd had any say in the matter, and my story did have erotic elements. I think this is one where a bit of strategically placed seaweed would help attract more people to the anthology.
Colette: More than anything, I've enjoyed the publishing experience and the chance to interact with fellow writers and readers. I also loved the launch party you put together at WFC.  I may not make any money from this particular sale, but I've learned a lot from my experience. I'm grateful for that.
Nancy:  WWTW made me realize how difficult putting together an anthology is.  We have a lot of short stories in the anthology from very different genres.  Deb did a great job bundling them into the three sections based on the type of weirdness. If you're looking for stories that balance on genre edges, this is the anthology for you.
It's definitely been fun. I got to know a lot more writers than I would have if I hadn't participated. I wouldn't turn down another opportunity to work with Deb or Doghorn. Being invited to submit to the anthology was an honor. Having Deb select my story for it was amazing and my first professional sale. So, WWTW will always have a special place in my heart.