On a quest to recharge my writing energies, I sit on a sandy beach of a lake in northern Saskatchewan. After two days of billowing clouds, flash lightening and rain storms, the blistering sun bakes away all cares. But not all cares disappear.
Guilt.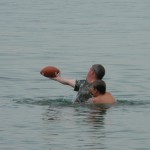 Guilt for not writing every day niggles me – taunting, chastising. The niggling stops when a loud splash in the lake is followed by a wild cheer! A young boy is no longer the monkey in the middle  – he caught his dad's poorly thrown ball. And I watch the young lad struggle to throw the ball over his dad's flailing arms so his brother can catch it.
A cooing mom adjusts the umbrella over her toddler so she can comfortably play in the sand. A beer can snaps open. A sunbather sprays tanning oil across her almost naked body. Knee boarders leap in the air behind speeding boats while kayaks bob in their wake.
Guilt suddenly disappears when I realize that I'm honing my writing skills amidst summer's languid frenzy.
Pacing.
It's all about pacing not only my stories but myself.
We call our characters to action, ramp up the tension, put them into mortal danger and write them into such tough spots that only the ingenuity of imagination can save them. We twist their lives, beat them and those closest to them by raising the stakes in ways no mortal can survive.
And we do the same for ourselves. Yes, we writers set the stakes high thinking that if we do not remain faithful to those lofty goals, and if we do not meet our self imposed expectations that we as masters of our fate, will fail miserably.
Yet, like our characters, we need to pause to recharge, to reflect, to consider our options, to find help where we can get it – take the detour, the side road which may reveal its own treasures.
So I sit in the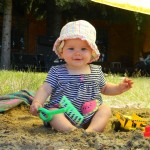 shade, nursing tender pink skin, watching children and adults play in the lake, dogs taking people for a walk, and I sip my wine, absorbing the stillness.
And I am thankful, that the writer of my life found the pause button, set the pace a little slower for a moment so that I may reflect and recharge. And maybe, just maybe, I'll be a little kinder to my characters too.
Have a happy summer!