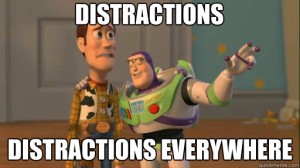 One of the most common complaints I hear from fellow writers is how hard it can be to write and be productive with all the distractions prevalent on the information superhighway. While the usual advice "Just Write" still burn strong, when you write every day the temptation can be too much. It can be an email notification, or just a quick pause to look something up. Next thing you know you're lost in the throes of reddit and the time you allotted yourself to finish this chapter ended hours ago. If you're one of these types that often find the allure of the web a little too much to resist, here are some ideas that may help. I'll start out easy and move to the most extreme so you can choose a solution that works best for you.

Close all programs that distract you. This means your email program, instant messenger windows, web browsers, and other alert programs. Keep a notebook in front of you to write down all ideas that pop in your head or items you want to research. Stay in your writing window as much as possible.
If you absolutely need to have internet access for research, but find yourself always clicking on those same websites, look at getting a browser add-on that blocks websites for certain time limits. Examples are leechblock for firefox and StayFocusd for chrome. These apps let you choose a website and set up access restrictions. You can block the site for the entire writing session, or grant brief access to the site for 10-15 minute breaks every other hour or so. While this method is easy to circumvent, it will remind you to write when you absent-mindedly click on that reddit or facebook link.
If nothing else works, block the problem sites permanently. Almost all routers have an access control functionality. The access control pages, much like the plugins, let you choose a website and a time period. If you have it in your schedule to write every morning from 7-9am, you can have your router block these pages during that time. You can even specify the computer so your family/roommates aren't blocked as well. You can even turn off the internet during this time so there is literally nothing online to distract you. If you're really desperate, bring a friend in and have them change the password to the router. That way, it's blocked from the router and you're free to work.
While this won't solve all distractions, it does help get you away from the ones online.