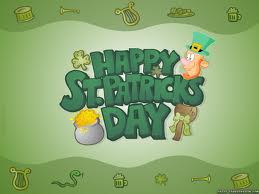 Happy St. Patrick's Day!
May you be in
Heaven a half hour before the
Devil knows you're dead!
May your home always be too small to hold all your friends.
God is good, but never dance in a small boat.
Dance as if no one were watching,
Sing as if no one were listening,
And live every day as if it were your last.
(For more Irish sayings/blessings, check out this site.)
I've always thought St. Patrick's Day was a lot of fun, but never really knew much about it other than the need to wear green so people don't punch you in the arm, and the constant advice to look for a rainbow with a pot of gold at the end.
So to celebrate the holiday today, here are a few facts:
– Irish have been celebrating St Patrick's day for over 1000 years.
– St. Patrick, who lived in the fifth century, is the patron saint of Ireland.
– Chicago turns the river green on St Patrick's day by dumping in 40 lbs of vegetable dye
– Shamrock plants can actually be used in remedies for snake venom.
– Snakes do not live in fields of Shamrocks anywhere in the world.
There's a lot of culture and history tied in with the holiday, particularly the 'wearing of the green', shamrocks, parades, and feasting. The shamrock is a powerful symbol of Ireland, and there is lots of folklore surrounding it, from beliefs that it is a sacred plant, that its leaves curl upward before a storm, and the very fact that it has 3 leaves, a number always associated with power, be it religious or arcane.
Then there's the leprechaun, usually depicted as an old, bearded man dressed in green, who loves to cause mischief, make shoes, and store pots of gold at the end of the rainbows. Leprechauns have been featured in movies, books, and other media, from comic to horror.
So what gems can we glean from this fun holiday so filled with history, folklore, and culture? How does this tie in with our genre month?
First, think about adding depth to your stories with legends or folklore. If you're writing urban fantasy, it's important to tie in your alternate view of the 'real' world to existing, recognizable legends. Readers love it, and the biggest successes do it
(think Harry Potter, and even Twilight). But even if you're writing science fiction or epic fantasy, you can use folklore/legends to add depth to your stories. Give your characters beliefs unique to their culture. You don't have to spend much time on them to make an impact. In just a couple of paragraphs, I've defined the basic concept of St Patrick's Day. It wouldn't take much more to include your own holidays/folklore. Think of Robert Jordan's Bel Tine festival in the opening scenes of The Eye of The World. It helped bring Emond's Field to life and draw the reader into the fantasy world. Without it, the town would have been far less engaging.
Second, it's worth studying folklore like this and how it affects different demographics of society around the world, regardless of what genre you write in. Different groups react in dramatically different ways to the same events in their lives, or the history of their nation. Such diverse opinions, when applied to characters in your story, help define them and differentiate them. Think of Han Solo in Star Wars and his scoffing of the force while Luke is becoming Obi Wan's disciple. Luke is shocked that Han Solo can possibly doubt, but Han just says, "Hokey religions and ancient weapons are no match for a good blaster at your side, kid."  That interchange defines Han's character at that time so perfectly.  Over time, as Han Solo sees more evidence of the power of the force, he reluctantly comes around, but that doubt reflects his own history and experiences, and helps make him memorable and real.
Third, there is so much material out there! If you're ever feeling stuck or uninspired in your own stories, or seeking inspiration for the next story to write, delve into folklore from cultures around the world. There are ideas everywhere, and the world is full of fascinating legends.
Study it, see how it manifests in everyday culture, and then step out into the shadows and find your own inspiration. It'll always be there.
Examples of stories I've enjoyed that mix the real and the unreal are Jim Butcher's Dresden Files series, and Larry Correia's Monster Hunter International. In movies, Van Helsing, and Stargate are a couple of favorite examples.
What are your favorites?