This is a combined public service announcement and post.
My first novel will be published in October by Baen Books.  The title is 1636: The Devil's Opera, and it's a collaboration with Eric Flint.
The cover-illustration by the great Tom Kidd-is here.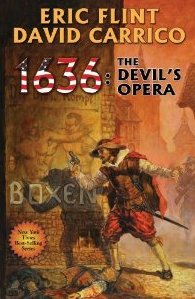 Pre-order from Amazon here.
That concludes the public service announcement.  On to the post.
Several of my fellow Fictorians urged me to give some idea of the process by which the novel was written.  To do that I'll first have to give you a bit of background on the 1632 series of which it is a part.
In 2000, Baen Books published a novel entitled 1632 by Eric Flint.  The elevator speech version of the plot is a cosmic space-time warp rips a small blue-collar town out of 2000 AD West Virginia and drops in it eastern Germany in the year 1631, which just happened to be in the middle of the Thirty Years War, possibly the bloodiest European war before WWI.  The resulting series is about how approximately 3,000 regular people from the future not only survive the event, but begin to change history.
This was the beginning of what has become one of the most successful alternate-history series in publishing history.  To date: over six million words; twelve novels (including the above) in hard copy; thirteen anthologies in hard copy; and forty-six  issues of an e-magazine called The Grantville Gazette.
I don't have space here to give you the history of this phenomenon.  If you're interested, go to http://1632.org/ and read.  The short version is that Eric did something very bold and potentially risky:  he opened the 1632 story universe up to fan writers, and offered to publish and pay for the best stories that were submitted.  That was the genesis of the e-magazine The Grantville Gazette.
GG, as we call it for short, will publish anything that is a well-told story that fits within the guidelines Eric has laid down for stories in the universe.  Current payment rates are 5¢/word, which is professional standard rate by SFWA guidelines.  (See http://1632.org/ again if you're interested.)
I started writing stories in the universe in 2004.  Within a couple of years I was part of what Eric considered to be a core group that consistently turned out good stories for GG on a pretty regular basis.  (My fifteen published solo works total over 200,000 words and range from a 2,000 word short short to a 52,000 word short novel that was serialized.)  Nonetheless, I was astonished when Eric approached me via email one day and said we should do a book together.
You have to understand that Eric is always on the lookout for writers he can help develop and help get a foot in the door in the publishing industry. Of the twelve novels published to date, I believe ten of them were produced in collaboration with seven different authors, plus I know there is another one close to completion with an eighth partner.
This is not a writing factory scam where someone else does all the work and Eric slaps his name on it at the end and collects all the money.  In one partnership, I know that Eric worked with another professional writer and they divided the work.  In the rest, Eric was senior author and the other partners were junior.  I believe those all followed essentially the same model Eric used with me, so from this point on I'm just going to talk about my experience.
After the idea was broached, there was a certain amount of discussion as to what the book should be:  a combination of stories from both of us, or a novel.  Eric settled on a novel pretty quickly.  So then we talked about what the novel should be about.  I have two different series of stories going in GG with different but intersecting character groups in the same city.  Eric said we should use one or both of the character groups in the novel in order to tap into the fan base that already existed for them.  I had just finished a 27,000 word novella with one of the character sets, so I sent it to Eric.  He agreed we would use that as the center pole for the novel.
The next step was to build the outline.  That ended up taking a fair amount of time, because what worked best for me was to sit in the same room with Eric and talk everything out, ask a lot of questions, and make notes, and it took some work to get our schedules to intersect.
I wrote the first draft.  That is Eric's standard practice with junior authors, for them to write all or most of the first draft.
Eric read the first draft, decided what changes needed to be made. He fixed some things himself, which produced the second draft.  Then he assigned some changes to me, and I produced the third draft.  Then he did the final polish, producing a fourth draft (approximately 169,000 words), which he then submitted to Toni Weisskopf, the publisher at Baen Books.  And as announced above, Baen will have it on the shelves on October 1.
Someone asked me what Eric got out of the deal.  Two things:  he got to pay forward to a friend, and he got a good novel in his series with his name on it with much less demand on his time.
What did I get out of it?  A novel in a good series with my name on it.  🙂  And by working with and under Eric, I learned things about outlining, plot development, mystery novel memes and tropes, chapter size and arrangement, proper levels of descriptive language and dialog, and on and on.
I also got to demonstrate to one of the best publishers in the business that I can write quality work and deliver a finished product without going through the slush process.  Priceless.
http://davidcarricofiction.com/
http://www.grantvillegazette.com/