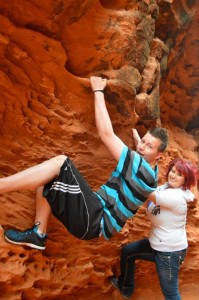 I would like to briefly interrupt our regular schedule today to talk about something that happened last week. David Farland's son, Ben, age 16, was in a serious long-boarding accident on Wednesday the 4th.
Imagine the worst skateboarding accident you can without cars, or guns, and there you have it. His list of injuries is staggering: brain trauma, internal bleeding, bruised lungs, blown eardrum, broken pelvis, broken tailbone, crushed vertebrae, cracked skull . . . He is currently in a coma.
His family does not have insurance.
Dave is one of the best guys I know. He's mentored, and taught, and helped out more students and aspiring writers than any person I know. Personally, I would not have been as happy or as successful without him. I know I'm a better person for having him in my life; let alone a better writer and editor. He's one of the good guys. He's one of the ones who honestly cares.
Turns out that early estimates of the medical bills are as staggering as the injuries, so we are helping with a book bomb on Ben's behalf.
You can learn more about Ben's condition, or simply donate to the Wolverton family here.
WHAT IS A BOOK BOMB?
A Book Bomb is an event where participants purchase a book on a specific day to support the author, or, in this case, a young person in serious need: Ben Wolverton.
WHAT BOOK SHOULD I PURCHASE?
David Farland's young adult fantasy thriller NIGHTINGALE has won 7 awards, including the Grand Prize at the Hollywood Book Festival–beating out all books in all categories. It is available as a hardcover ($24.99), ebook ($7.99), audio book ($24.99), and enhanced novel for the iPad ($9.99).
You can purchase it on Amazon, Barnes and Noble, and on the Nightingale website.
Or, you can get the enhanced version, complete with illustrations, interviews, animations, and its own soundtrack, through iTunes.
WHAT IS IT ABOUT?
Some people sing at night to drive back the darkness. Others sing to summon it. . . .
Bron Jones was abandoned at birth. Thrown into foster care, he was rejected by one family after another, until he met Olivia, a gifted and devoted high-school teacher who recognized him for what he really was–what her people call a "nightingale."
But Bron isn't ready to learn the truth. There are secrets that have been hidden from mankind for hundreds of thousands of years, secrets that should remain hidden. Some things are too dangerous to know. Bron's secret may be the most dangerous of all.
IS IT GOOD?
In short, yes.
Authors such as James Dashner (The Maze Runner), Brandon Sanderson (Mistborn), and Paul Genesse (Iron Dragon series) all praised it. Nightingale has 4 and a half stars on Amazon.  But just go buy it tomorrow and find out for yourself.
WHAT IF I ALREADY OWN NIGHTINGALE? OR I'M NOT INTERESTED IN IT?
If you are a writer, you may want to consider purchasing David Farland's MILLION DOLLAR OUTLINES. It has been a bestseller on Amazon for over a month and is only $6.99.
As a bestselling author David Farland has taught dozens of writers who have gone on to staggering literary success, including such #1 New York Times Bestsellers as Brandon Mull (Fablehaven), Brandon Sanderson (Wheel of Time), James Dashner (The Maze Runner) and Stephenie Meyer (Twilight).
In Million Dollar Outlines, Dave teaches how to analyze an audience and outline a novel so that it can appeal to a wide readership, giving it the potential to become a bestseller. The secrets found in his unconventional approach will help you understand why so many of his authors go on to prominence.
Get it on Amazon, or on Barnes and Noble.
Check out the reviews. Is it worth it? Again, yes.
CAN I JUST DONATE MONEY?
Yes. You can donate money to Ben here. Or you could purchase a book as a gift for someone else!
I WANT TO HELP BUT I DON'T HAVE ANY MONEY!
The best way you can help is by spreading the word of Ben's donation page and the book bomb tomorrow, Wednesday April 10th. Share it on facebook, twitter, pinterest, your blog-anywhere you can.
TELL ME MORE ABOUT BEN. WILL HE BE OKAY?
David Farland has been keeping everyone posted on facebook. Subscribe or friend him to get up-to-date information. At the moment, Ben is stable and appears to be improving.
Thank you! Just keep those wishes, hopes, prayers, flowers, cheers and skols flowing.