A guest post by Brenda Sawatzky.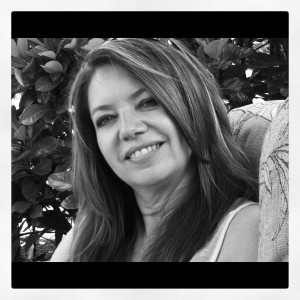 "I'm standing outside of Mindy's restaurant alone about two a.m., thinking about nothing in particular, when it strikes me that I have not seen or heard from my friend Brenda for quite some time."
Thus opens an email from my long-time friend, Jim. He is not inclined to banal salutations-"How're you doing?", "What's new?" No, he's too creative for that. Instead, the opening paragraph continues, inviting me into a short story set in a 1930's gangster milieu. His cliché-riddled prose pours onto the page like a Damon Runyon tale, the protagonist-yours truly. It's at this point that I long for a moniker more befitting 1930s New York-like Hazel Hubbahubba. Something with panache, edging on libertine.
It seems an odd place for a writer to get their start. But this is the exact moment where a sleeping writer-spirit awoke within me and took to the stage. For Jim, it was a clever way of saying "hello"; for me, it was a challenge. Within hours my fictitious riposte was complete, having dug deep into the archives of Google and Wikipedia for historical accuracy, and eluding loosely to the real protagonist's life. Jim, I decided, would make a fine leading man. I hit "send" and giggled with schoolgirl delight.
Day in and day out, the exchange continued, the yarn growing more elaborate, cunning, and fantastical with every tap of the "send" button. The greatest challenge, you see, was building on a story that was being weaved, in part, by someone else. A plot was near impossible, the possibilities endless.
A few weeks in and I was hooked, like a fish to a worm, a carb addict to a bake sale. I found myself rushing to my laptop the moment my eyes opened to greet the morning. Had he responded yet? What would he do with the plot shift I'd dangled over the proverbial cliff the night before? Dinner burnt on the stove, the laundry piled up, and the dog sat forlorn next to me on the sofa, speculating over his self-absorbed mistress, wisely choosing to cross his hind legs rather than disturb her reverie.
Three months and fifty thousand words later a novella was born. The madness had ended. Jim and I shared a virtual high-five and then went back to our everyday. But the sun peaked over the horizon each morning and I had no reason to get out of bed. Kierkegaard said, "Boredom is the root of all evil-the despairing refusal to be oneself." The doldrums had set in, but the writer-spirit was too fresh to be mummified just yet.
Employing the internet I began an arduous search for writer's workshops, short story contests, anything to restore that feeling again. I wrote a novel and paid a prince's ransom for a professional critique. I joined an online writer's workshop pairing myself with an author-mentor, set up to teach me how to break into print. And I've started my own blog, a creative and fun way to flex my writing muscles.
I'm a bit of a late bloomer, I suppose. It took me a long time to recognize the voice inside my head as my imagination clambering to escape. I've been involved in a long-term love affair with words and have done a substantial amount of topical writing for committees, business projects, and the like, but I didn't exercise my right to fictional storytelling until my kids were grown and life slowed to a manageable pace.
One of the most fallacious euphemisms in the world is, "You can't teach an old dog new tricks." I just turned fifty-one. I don't aspire to a Nobel prize in literary fiction (although one can dream) or even a review in the New York Times. I'm just looking for an outlet for an inner voice. A voice that's moved from vegetative to vociferous. And step by baby step, the giant awakens.
*            *            *
Brenda Sawatzky is a relatively new, unpublished writer hailing from the wide-open prairie spaces of southeast Manitoba. She and her husband of thirty-one years are self-employed and parents to five kids (two ushered in by marriage). She is presently working toward fiction and non-fiction writing for magazines and manages a personal blog.