A guest post by Martin Greening.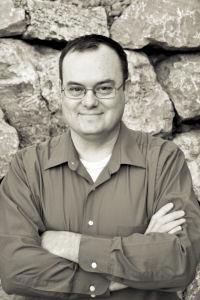 In seventh grade, a classmate of mine gave a presentation on his comic book collection. I had read a comic or two prior, but had never even considered collecting them in plastic bags with backing boards to keep them fresh and unbent. That Christmas, I asked for one thing from Santa, my parents, anyone: I asked for comics so I could start my own collection.
A few months later, while strolling through the aisles of the local comic book Mecca, I first discovered The Holt. What is The Holt, you ask? Only a gnarled tree in the midst of a great forest. Within the boughs of this tree lay magically shaped rooms that were home to a tribe of elves known as the Wolfriders. I had discovered Elfquest, by Wendy and Richard Pini, and it would be the start of a long and loving relationship.
The original story introduced such great heroes as Cutter, also known as The Blood of Ten Chiefs, his trusty companion Skywise, and twisted creatures like Winnowill and Madcoil. Cuuter and Skywise, along with their small tribe, are forced to embark on a trek from their idyllic woodland home. A trek that would eventually lead them on a quest to find their true origins. The story has all the makings of traditional Hero's Journey. Joseph Campbell would be proud.
The Pinis shopped Elfquest around to the major comic publishers, but received no bites other than a tiny independent comic called Fantasy Quarterly. The first issue of Elfquest appeared in that comic in 1978, but the Pinis felt they could do better. They founded WaRP Graphics and published the rest of the story themselves. Since then, Elfquest has appeared under the banners of Marvel, DC, and now Dark Horse (for the upcoming Final Quest storyline). The Pinis' tale is one of the great success stories in self-published comics.
Not long after devouring the four large graphic novels (which dominated the top of the fantasy and science fiction section at Waldenbooks) that comprised the original story, I came across a copy of the Elfquest Roleplaying Game by Chaosium. Yes, I was a roleplayer, Dungeons and Dragons and all that. It's my brother's fault. You try growing up in the same room as a sibling who is three years your elder and not absorb whatever he is in to. That game opened new doors for me. Along with my good friend Dennis, we created our own tribe of elves (called the Kindred). We created our own stories that featured the likes of Stormpoint and his daughter Springmist and the tribe chief Swiftscent (Dennis's character). All kinds of things found their way into our stories, including a clawed glove that was exactly like the one Lion-O donned in Thundercats and even a dark elf (courtesy of R.A. Salvatore's Drizzt) we named Orebender (because he could magically shape rock and metal).
On a side note, the Elfquest Roleplaying Game had character silhouettes so you could draw your own characters. My art skills have long deteriorated, but I've kept the drawings of many of the Kindred, which I'm happy to share below. Looking at them is a doorway into the past and brings memories of good times with friends, both real and imaginary.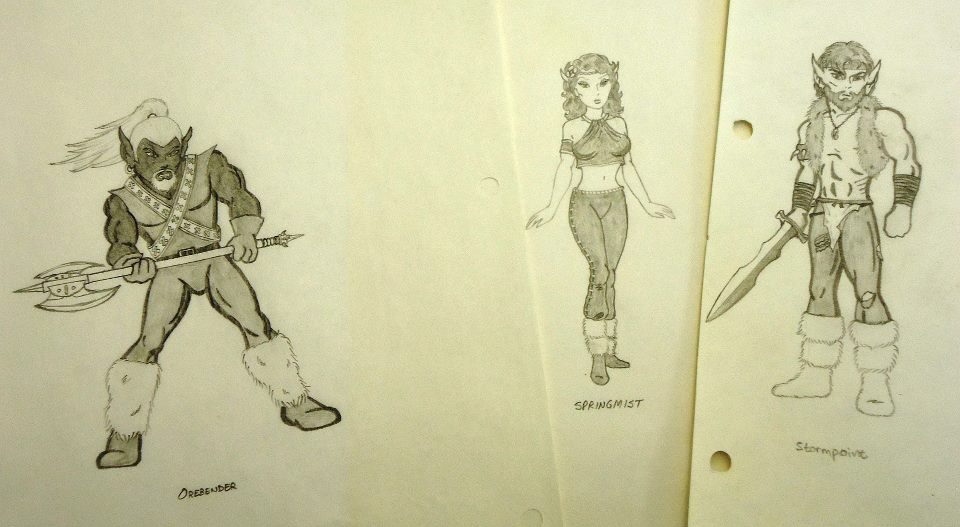 Sadly, my friend and I never wrote down any of the adventures of Stormpoint, but I still dream of their tales and parts of them find their way into my writing every now and then. Perhaps someday I will get around to chronicling their story.
To bring my story full circle (which is sort of ironic, as one Elfquest saga is titled "Kings of the Broken Wheel"), in 2012 I was fortunate enough to attend the Superstars Writing Seminar in Las Vegas. During one of the evening meet-and-greets, I sat next to one of the faculty whom I did not know, James A. Owen (who also contributed a guest post here at the Fictorian Era). We chatted for a bit about how he is a comic artist and novelist and eventually the conversation turned to Elfquest. It turned out James was a huge fan, so much so that he wrote the introduction to the second volume of the Elfquest Archives, put out by DC comics (it's the one with the dark blue cover in the below pic).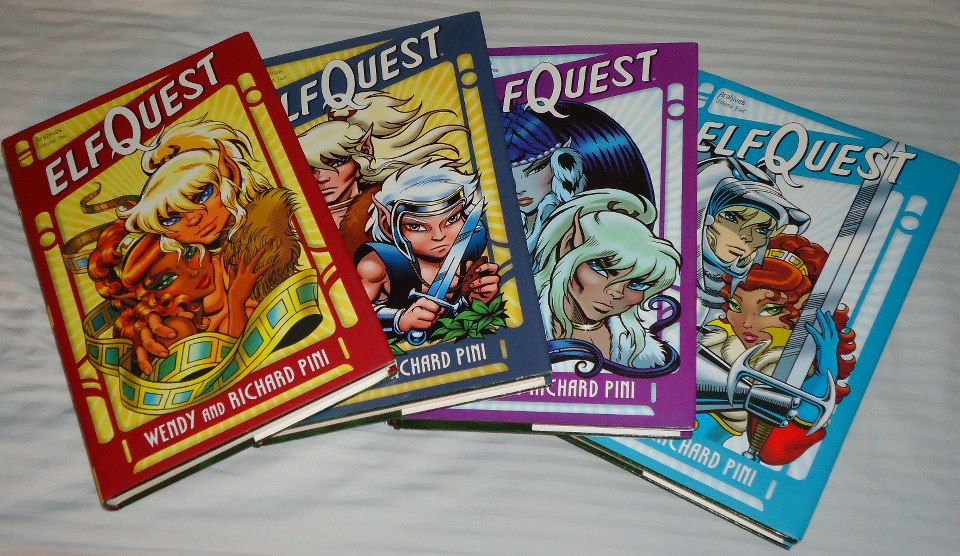 That brief connection has rekindled my love of Elfquest and the stories I created as a child. The first thing I did after that seminar was go home and dig out Volume 2 to read his introduction. (By the way, James is an inspirational guy who has written about his journey in a fantastic book called Drawing Out The Dragons).
So there you have it. Elfquest: one of the works that has influenced me. You can read it online for free at www.elfquest.com. Maybe it will spark something in you as well.
*            *            *
Martin Greening hails from Southern California and has been drawn to fantasy and science fiction from a young age. He is currently working on a fantasy adventure novel and several short stories. Martin lives in Sin City working as a IT guru by day and a dreamer of the fantastic at night. He can be found at www.martingreening.com.