Werewolves and Vampires.  Two favorite monsters that have scared and fascinated the world for centuries.
First:  Vampires – we have poems, stories, and plays dating back to the 1700's, based on legends that date back even further. (one list claims there have been 197 vampire movies)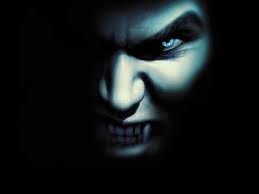 Some well-known stories and/or movies:
Bram Stoker's Dracula (1897)
Buffy the Vampire Slayer (1997 – 2003)
Jim Butcher's Dresden Files (2000 – 2011)
Interview with a Vampire (1994)
the Blade series (1998 – 2004)
The Lost Boys (1987)
Salem's Lot by Stephen King (book:  1975, Movie:  1979)
Why so much focus on vampires, and why do they continue to appeal to generation after generation?
Anciently, vampires were always seen as creatures of gothic horror, little more than animated corpses often preying on their closest loved ones.  Then, starting as early as the 1800's, vampires became sensual, seductive creatures, the living embodiment of forbidden lusts.  The classic Dracula by Bram Stoker is a great example of that transition period that dramatically impacted the entire field.
Later Vampire stories continued to evolve, many focusing on vampire hunters (Blade, Buffy, Monster Hunter International), and eventually portraying vampires less as evil incarnate and more  as objects of desire (Twilight).
I find the transition interesting.  It's rare these days to find a classic vampire that just sneaks around at night looking for virgins to bite.  Far more often, the vampires are depicted as cool, rich, sexy, and desirable, with a hint of danger thrown in that only seems to increase the appeal.  People today seem to want to flirt with the danger rather than destroy it.
Then there are the Werewolves (or lycanthropes)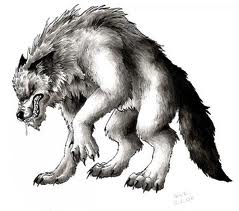 Werewolf legends are some of the oldest and most widespread of all monsters, with stories from all parts of the world.  Werewolves are shape shifters, the living embodiment of the beast caged inside of man, released to savage across the world without restraint.
Early werewolves were often depicted as witches, who used various potions to turn into wolves, or required intricate rituals to affect the change.  The full moon, connected with madness in people for millennia, is generally associated with werewolves too.  Some werewolves can voluntarily change shape, others are cursed, usually after being bitten, and face a terrible fate of changing against their will and losing control.
Werewolves in the past century have generally been depicted as being vulnerable to silver, but highly resistant to other injuries.  Stories about werewolves abound, all the way back to Little Red Riding Hood.
Many movies have been made about werewolves, including notables like:
Werewolf of London (1935)
The Wolf Man (1941)
The Howling (1981)
Silver Bullet (1985) – based on a novella by Stephen King
Dog Soldiers (2002)
Unlike vampires, far fewer werewolf stories depict them as anything but horrific creatures.  We love to be scared, to see the face of destructive evil.
Then there is the awesome juncture where vampires and werewolves meet:
The Underworld series (starting in 2003)
The Twilight series
Larry Correia's Monster Hunter International Series
Van Helsing (2004) – one of my favorites
Even Abbot and Costello
So what continues to drive the fascination?  I remember years ago people saying, "Don't write any more vampire stories.  That market is saturated and dead."
Then Twilight took over the world, and spawned an entire new genre of paranormal romance.  Vampires and werewolves are still everywhere.
I think part of the allure is the fact that people know these monsters.  Sure, different stories twist facts around some but, for the most part when someone says "vampire" or "werewolf", people immediately get a sense of what they're talking about.
For vampires, they're always tied to seductive evil, and audiences get a thrill flirting along that forbidden line.
Werewolves, savage and hard to kill, offer great power, and the loss of all restraint, all social norms.  They're the animal we all hold within, the face of what happens when we cross the line and step to the far side of chaos.
Although I have no interest in writing a vampire or werewolf story any time soon, there are lessons to be learned by the great ongoing success of these stories, and the myths that give them life.  Are the monsters in our stories sensual, tempting, and savage?  Do they terrify and fascinate in equal measure?  Do they reflect the darkness lurking within the characters, and by extension, the readers?  Is there a risk the hero may fall to that darkness, even in their moment of victory?
If so, your own myths might prove to be legends in their own right.