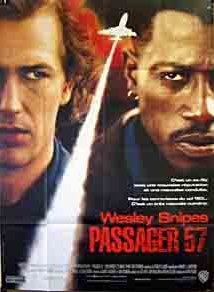 The first movie I saw in a movie theater was Terminator 2. Because my dad was a preacher and we lived in a small town in Kansas, the theater owner decided that all the ministers in town and their families could come and see movies for free. We took full advantage of this generous opportunity, and while my dad allowed me to see all of the best action movies from the early 90's, he forbade me to see Ace Ventura. As you may have already suspected, my dad is pretty awesome.
One of my all-time favorite action movies is still, to this day, Passenger 57 with Wesley Snipes. It includes some iconic action elements like a hijacking, an evil hijacking terrorist with poofy hair, poofy-haired henchmen, Tom Sizemore, and an awesome catch phrase: "Always bet on black!"
As it turns out, Wesley Snipes and Passenger 57 inspired me to write my very first story.  Here were the elements, written by yours truly on my dad's Smith Corona Personal Word Processor at 7 years of age.
1. Wesley Snipes.  All good action films somehow incorporate Wesley Snipes.  Thusly, I made him my main character, staring opposite Whitney Houston (The Bodyguard had a very special place in my heart and CD player at the time). Also, I needed a foil to Wesley Snipes' seriousness and overall attractiveness, so I chose Mel Gibson as his witty sidekick.
2. The Marijuanas. I knew – at 7 – that drugs had to somehow be in the story. Either the Bad Guy had to be on them, smuggling them, or giving them to minors. I chose the latter. My Bad Guy, married to Whitney Houston, was the most infamous marijuana dealer in all of Los Angeles. One day, Whitney goes into their closet to look for a hat on the top shelf and, lo and behold, all of the drugs are there. (I asked my dad if I could put in a cuss word when she finds the drugs. He suggested "shoot" or "darn" instead. We reached a compromise with "Oh crap!")  She calls the police right away, because it's the right thing to do.
3. A secret place to hide. Wesley and Mel are FBI agents tasked with keeping Whitney safe and hidden from her drug-pushing husband. I thought up an exotic place where most of my movie-story would be filmed – a place where no one would even think to look for them: Hawaii.
4. A blossoming romance. Oh c'mon, you knew it was coming. Wesley and Whitney fall for each other.
5. The twist! Drug husband has a dirty agent in the FBI who tells him Whitney is hiding out in Hawaii. Drug husband is happy to hear this, as he already has a drug ring in Hawaii and he needed to work on his tan anyway.
6. Cue huge action sequence with GUNS!  A shootout ensues on the beach.  The drug peddling husband's henchmen get picked off one by one by Mel and Wesley. Mel gets shot in the shoulder, "Go find him! I'll hold them off!" Mel says, and off Wesley goes to find that drug husband guy.
7. Like all good action movies, Wesley and drug man have a long fight that leaves them both exhausted. Wesley somehow wrangles his gun back, then says something moral and/or funny like: "Smoke this!" and shoots Bad Guy/drug husband.
8. The kiss. Wesley and Whitney make out at the end, Mel says something snide but funnier than: "Get a room!" The camera zooms out, showing an aerial view of the scene and the beautiful beaches of Hawaii.
And there you have it.
Whatever inspires you, pursue it. Movies are a fantastic medium to shape our ideas into a more realistic presentation. If you need to cast movie stars as your characters so that you can see them clearly in your mind, do so. If one of your favorite movies taught you a little something about story structure, use it.
And if you learn one thing from action movies from the 80's and 90's, it's that you probably shouldn't do drugs. Or Wesley Snipes will find you.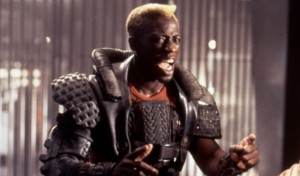 ********************
Kristin Luna is a Marketing Consultant by day and writer by break of dawn. She goes to bed at 9:00 PM. Kristin, a descendant of the infamous Dread Pirate Roberts, is currently working on a Young Adult fantasy trilogy. When she isn't contemplating marketing campaigns or writing, she's crocheting, watching action movies, figuring out yoga, teaching her cats sign language, reading, or rounding out her handmade Jadzia Dax figurine collection. She is kidding about only two of those hobbies.