This month we've had a lot of great posts with tons of concrete advice on how to break through a wall or break out of a plateau where we might be stuck.  But what about life in general?  Do we ever feel stuck, unmotivated?
Breaking out of those ruts can be harder than overcoming writer's block.  One of the keys is to try to identify what motivates us.  What makes us smile or laugh or cry, helps renew our enthusiasm, or drive?
Something that dives deep, strikes a chord, resonates with our deepest held beliefs.  Something that inspires hope or love.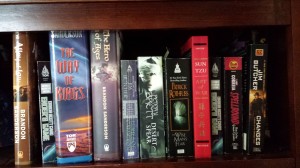 The greatest books and movies are those that touch such a chord, that drive us to tears when they connect with our reality.  Think Rocky, Gone With The Wind, Titanic, and It's a Wonderful Life.  Think The Help, or Pride and Prejudice.
It might be a romance, like An Affair To Remember, or it might be a heroic drama like The Dirty Dozen (I love the scene in Sleepless in Seattle where the men and women get emotional over these two different films – watch the clip here).
Whatever the story, the truth is someone put together the right sequence to touch your heart deeply.  Those kind of stories can inspire us to be better people, help us break out of an unproductive rut, or change our lives at a fundamental level.  That's one of the reasons I love good stories so much, and why I work so hard to write them.
I want to try an experiment.  What is one movie or book that touched you in a deep, meaningful way?  It's useless to put together a top 50 best books or best movies of all times because different stories touch different people.  It's too subjective.  But each one of us has a personal list.
So what book or movie moved you the most?
It's all too easy to find works that speak to me.  When I read a book or watch a movie, I deep dive.  I get sucked in completely.  For me it's a vivid, powerful experience, and so I find myself responding emotionally all the time.  Whenever the hero faces the ultimate test and risks all to achieve their goal, I find myself choking up and responding to the stakes that they're feeling because I feel them too.
In movies, I get sucked in almost too easy.  From Wreck-It Ralph to The Avengers to October Sky, I'm fighting tears at the end of all of them.  In books, most of my favorite authors trigger a powerful emotional response.  From Alloy of Law by Brandon Sanderson to Hard Magic by Larry Correia to The Name of the Wind by Patrick Rothfuss.
But even so, some works stand out and make a deeper impact.  In books, both Enders Game by Orson Scott Card and The Hero of Ages by Brandon Sanderson impacted me greatly with their fantastic twists at the ends.  But one of the stories that I found even more powerful was The Way of Kings by Brandon Sanderson.  Kal, one of the main characters, pushes himself to the utter brink to save others, and that heroism demands a reaction from any reader.
In movies, a couple of my all-time favorites are Star Wars and Avatar.  But I was also powerfully moved by The Shawshank Redemption and Remember the Titans.
There are many others, but that's enough for today.  This is not an easy question, but taking the time to find an answer can give you a clue as to what motivates you, what themes or qualities you respond to.  In life, perhaps you've just identified qualities you want to emulate more every day.  In writing, perhaps you've just identified what element you need to add to our own work to make it really shine.
Please add your comments, and then share the challenge with friends on Facebook or Google+ or whatever other media you use to connect.  See if they're willing to share an example too.
I think we'll find some common themes, and a few surprises.
Let's find out.