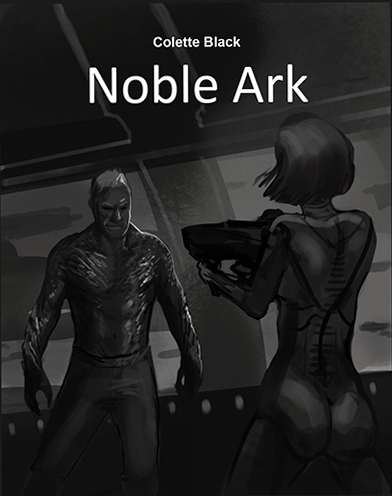 Kickstarter is crowd-funding, right? Not promotion. It's more than both of those things. Let me explain.
So, you have a finished novel and you want it to see the light of day. You have some options: get an agent to love it and leave it in their hands, go directly to a publisher, or publish it yourself.  My book, Noble Ark, had gained interest from agents and then found a wonderful one. She was putting the book out to the different publishers, but I pulled the book before I'd given it enough time to sell, deciding to self-publish. I loved my agent, but she'd told me herself that she wasn't a Young Adult agent and everything else I had written, and was writing, was YA. So I decided to seek traditional publishing for my YA material. My New Adult book, Noble Ark, I would self-publish.
This is where Kickstarter comes in. It's crowd-funding to help make artistic projects happen while giving back to those who contribute. I particularly like this explanation from the About Kickstarter page, "Mozart, Beethoven, Whitman, Twain, and other artists funded works in similar ways — not just with help from large patrons, but by soliciting money from smaller patrons, often called subscribers. In return for their support, these subscribers might have received an early copy or special edition of the work. Kickstarter is an extension of this model, turbocharged by the web."
Why take this route?
1) Funding: Who can afford the costs that publishing companies put out for a book? And trust me, you WANT to compete with these publishing companies. With Kickstarter, everyone comes together to supply that funding, while everyone gains something from the process. It's a win-win.
2) Promotion: What better way to get friends, family, and fans involved with what you're doing. They have a stake in it, because they're making it happen. This is exciting stuff, people! And getting everyone involved is what we're always doing as writers, and what we're talking about for the month. This is the essence of promotion.
3) Connections: As I let people know about my project, I'm connecting with friends and fans that I've been too busy to stay in contact with. They have busy lives, I spend all my free time writing, and we understand how that happens, but those good intentions to talk or get together have continued to fall by the wayside. Kickstarter has given me an opportunity to reconnect. It's also given me a topic of conversation to create new friendships. Who knew that the receptionist at my car repair shop is an artist? She asked about my weekend, I mentioned putting together a Kickstarter, and now we both have new fans. Her work is edgy and interesting and I wish I'd known about it sooner. (Find her on Instagram at: thee_empress23)
Since this is promotion month, let me make some suggestions on promoting a Kickstarter. Many of these come from Kickstarter guru, Heidi Berthiaume, who will be putting a book together–via Kickstarter, of course—on how to run and promote a Kickstarter. Her help has been invaluable. (Full Discolosure: some of these suggestions come from Kickstarter and many are my own opinion.)
When you get close to release, let your fans know that a Kickstarter is on the way. Take this opportunity to introduce them to the concept.
Don't think you can put up a post on fb or twitter and be done. This project is professional, but also personal. Send personal notes, email or IM, to everyone who might be interested. Make sure they understand the basic points: they pay nothing unless the funding goal is reached, there are pledge amounts to fit any budget (make sure that's true when creating pledge amounts), full funding is required in order for your project to go forward.
Don't ask for help, ask for participation in your great project. Focus on rewards they earn in the process of bringing your art to life.
Ask for help. Contradictory, I know, but this means go to the professionals you're friends with, who already have marketing venues: the people with blogs, podcasts, etc., and ask them for suggestions. They're familiar with getting the word out and may be able to help you find other avenues for promotion.
Don't overwhelm, but don't neglect. You don't want every word people hear out of your mouth, or read on fb, to be Kickstarter. Put up regular content, but don't harp on the cause. At the same time, people need to be reminded. Add something to the Kickstarter and let people know it's there. I'm considering lengthening my video, and/or adding some bloopers. Throw out the occasional progress report. Get a short video from your editor or artist, talking about why they're excited about your project and post it. Remind people in interesting ways that aren't annoying. Remember, you still want these people to be your friends, whether they participate or not.
As it gets close to the ending date, build momentum. This is when the posts might come a little closer together, as you encourage everyone to reach a little farther to get the goal, or to attain a stretch goal. This is where you might put in add-ons, individual rewards people can add to what they're already getting, in order to build interest. The perfect example of this is Tracy and Laura Hickman's Sojourner Tales Kickstarter. It finished with over 200% funding, but in the last couple of weeks they were putting in add-ons, offering video chats with the authors participating in upcoming stretch goals (like Kevin J. Anderson), and put up a you-tube game play sampler. And they made sure everyone knows they can still join in by going to their website.
Almost forgot this last important bit—timing. Don't start a Kickstarter in the middle of a government shutdown. A lot of people who would have contributed, have told me they're waiting for the shutdown to end so they have a paycheck to work with. December is also usually not a good time for a Kickstarter, as everyone is thinking about Christmas. So think about what is going on in people's lives and time your Kickstarter better than I did.
I hope this helps some of you understand Kickstarter a little better and be prepared to make a success of it. Another suggestion the Kickstarter team makes on their website is to participate in funding a Kickstarter before you start one. I volunteer mine, because I'm nice that way.
  http://www.kickstarter.com/projects/203246974/noble-ark-how-it-should-end.
If you want to know more about my Kickstarter process, you can go to my blog, Black Space, where that will be my focus for the month.