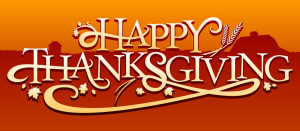 It's that time of year again in the United States, the start to the holiday season, Thanksgiving. It's that time of year when we gather friends and family together to count our blessings. And, to fully disclose all relevant facts, to eat far too much turkey and trimmings and watch the Macy's Thanksgiving Day Parade, and football. Okay. I don't do that last one, but I get that others do.
What are we thankful for here at Fictorians? Well, I can't answer for the group, but I can tell you a few things that I'm thankful for.
Wizard of Oz reruns. In fact, I'm watching the movie as I write this post. I'm not sure how The Wizard of Oz became associated with the lineup of more usual holiday specials – maybe because Dorothy learns to be grateful for home and what she has – but watching the movie has been a holiday tradition for as long as I can remember. I got to stay up late to watch it. Really, what more was needed to endear the movie to me? I've watched the movie over 40 times and it remains a favorite.
The Macy's Thanksgiving Day Parade. Growing up, I'd wake up to the smell of roasting turkey and know it was only a matter of time before Mom would take a break from cooking to watch the parade with us. The Parade was family time.
The Superstars Writing Seminar. Without the seminar there would be no Fictorians.  The members probably wouldn't know each other or have met so early in our writing careers. We're more than friends, we're tribe, we're family.
Kevin J.  Anderson and Rebecca Moesta who invited me to be part of the Superstars staff and help them share the experience with others.
Flash Fiction Online for giving me the opportunity to hone my writing skills and give other writers a chance at publication.
The clients who stuck with me as I changed firms twice within a seven month period.  I thank them for giving me the opportunity to serve.
My friends and all their support over the years. Their refusal to let me crawl into my shell and become a hermit crab.
My family.
– The many many sacrifices my parents made for my siblings and I and for the person they helped me become.
– I am eternally grateful to my brother for what he does for our parents, and his long-term employment with Disney so we can get into the parks for a lot less than we would otherwise. I am sure my sons echo that last point.
– My ever supportive sons and husband and the opportunity to return the favor for my husband as he works on a large appeal due on December 16.
– I'm grateful that my boys feel comfortable coming to me to ask those questions we all have when we start to grow up. I'm  a romance writer, right? I should be able to field those questions. Right?
I am humbled by all of you who spend a little bit of your week with us on this blog.
So, while 2013 has been full of challenges there was a lot of good too. I hope life is kind to you and your family and your life is full of things to be thankful for. And thank you for spending your time with us.