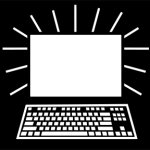 Years ago when I was still in the I-Want-To-Be-A-Writer-But-I'm-Not-Writing-Yet phase, I had a crappy desktop computer. It was old, it was big, it was slow and to use it, I had to sit in a less than comfortable chair at a less than comfortable desk. I didn't write much. Then I met someone and we began collaborating on a book together. I was inspired and writing – at last. It was not ideal and while I was at least following my dream to be a writer, it was still a struggle. The tools I had available were slowing me down.
Not too far into the process, I was visiting with my dad who lived in another state and I rarely got to see. In talking about how I was doing, I mentioned my struggle with my computer. My dad was always a techie, even when tech was barely available. He told me I should have a laptop computer. I scoffed – first, because I was not very tech savvy at the time and second, because I had no money to buy a laptop. Heck, the crappy desktop I had was a hand-me-down. So, I kept plugging away at the story I was writing and doing the best with what I had.
A few weeks later, I received a way-early Christmas present. Two large boxes arrived on my doorstep that contained a brand new laptop with all the bells and whistles and a new printer to go with it. Just remembering that day is making me cry as I type this.
My dad had invested in my dream. In my future – as a writer. He believed in me and gave me the tools to go for it. No excuses. That was such an amazing gift. I finished that book on that laptop in a big comfortable chair in my bedroom and a character was added to it that was inspired by my dad.
Since then, I've received many gifts of faith and support in my writing, but that first gift from my dad gave me the confidence and responsibility to believe in myself. Investments in my dream since have included attending the Superstars Writing Seminar and recently getting a newer laptop, though I'll never part with the one my dad gave me.  My dad died several years ago, but not before he got to read that first book I ever wrote.
Your tools are important and can make all the difference in the world, but then so can one person's belief in you.