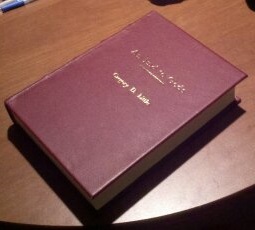 Today's post is going to cover two gifts for the price of one, both intangible and tangible.
I began my first novel manuscript in January of 1999. There were three of us then, and during our winter break from college, we set out to write the greatest epic fantasy novel known to man. I probably don't have to tell you our plans didn't quite pan out. But flash forward four or five years, and that book, the first thing I ever tried to write with a serious intention of publishing it, was nearly the reason I quit writing for good.
My co-authors dropped out early in the process. We enjoyed talking about our story's awesomeness more than actually working on it together. But I'd continued plugging slowly along on the book throughout college. And by the time I was graduated and then married, I had a couple of hundred draft pages. That seems like a tiny amount to Present Day Greg, but at the time it was by far the longest thing I'd ever written. The trouble was, I'd basically stopped working on it.
I told myself I was just busy. Working at a full-time job and commuting three hours daily left me very tired by the end of each week. But that wasn't it. In truth I no longer believed in the story I was writing. I was no longer excited by it, because there was a dissonance between the plot and the protagonist. I didn't believe that this protagonist would be responsible for the acts of his recent past that formed the foundation of the plot.
I'd be willing to bet a lot of writers don't consciously decide to give up writing. It just sort of happens bit by bit, day by day until they look back and realize it's been months or years since they've written. The point of no return is when this thought no longer bothers them. I came pretty close to that point. A more experienced writer would have just tossed the idea and started on a new one, but that wasn't how I looked at it. The germ for this story had been in my head for a decade. If I couldn't even see it through, what hope did I ever have of being a writer? But the Sunk Cost Fallacy had me in its claws. For those unfamiliar, the Sunk Cost Fallacy is the human tendency to "throw good money after bad" and continue investing in something that isn't working just because you've invested so much into it already.
I can't remember exactly when it happened, but I gradually gave myself permission to scrap what needed scrapping in order to the save the story. It started with rewriting the protagonist into the antagonist, but by the end I trashed every single word of text and started over. Some of the characters' relationships to one another and some of my original world-building concepts would survive, but every bit of the prose was fed into the furnace of reigniting my excitement for the project. It was total scorched earth, and as much as I'd dreaded the concept, it was surprisingly liberating once I'd committed myself to it.
Eventually I finished my monster of a first manuscript, An End to Gods. The final product is infinitely better than the project was originally shaping up to be. I've gotten much faster and trimmer as a writer since then, and the book is still too big and too Byzantine to publish as a novice writer, but I love it for all its messy complexity. My cousins even collaborated to get it printed and bound in leather for me several Christmases ago, complete with custom chapter icon artwork (Ben and Duncan, you guys still rock!) and it is still the coolest gift I've ever been given. It's sitting on my shelf behind me as I type this (and in the picture at the top of this post). I don't mind telling you I got teary-eyed when I first laid eyes on it, and I still plan on publishing it one day, however many rewrites that takes. I've already done it once, after all.
So there you have it. Two greatest gifts for the price of one. Kevin J. Anderson likes to use the phrase "dare to be bad (at first)" and that's excellent advice. But if that first draft is so bad it's discouraging you from continuing to write, it may be time to tear it down and start again.