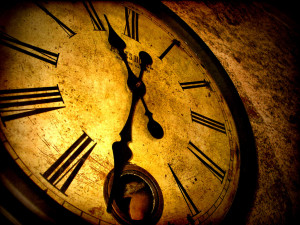 Today is the first day of the New Year where many people will be doing something that they rarely do: actually manage their time to do something that needs to get done. It could be working out, taking the stairs, balancing their checkbook, or writing an hour a day. Somehow, they'll have time to do it… and for many it'll fade away in a couple weeks.
You can go to a dozen different websites and find a dozen different methods on how to combat the odds and stay productive as the year progresses, but there lies the problem. People are complex beings, and it's very rare that the simple solutions are the ones that actually work. People can tell you what worked for them, but there is no telling if it would be beneficial for you as well. The real solution is to look at your life, decide what you want, and figure out something that works for you.
As far as writers go, the advice seems to be pretty consistent. Choose a goal and make sure you reach that goal every day. It can be time based, word count, or page count. The advice is simple, but you need to figure out what will make it most likely that you'll follow through with that goal. Are you more likely to complete it if you get it out of the way first thing in the morning or before bed? Some people have a reward system where they allow themselves to play a game, have a treat, or watch a show after writing. Others spend an hour destroying people on the virtual battlefield as a method to relax before they write.
Even if you can't do it every day, find a goal that works for you and makes you ready and happy to write. Some writers will write every day for 20-30 minutes during their lunch breaks. Others will go off to a mountain retreat and lock themselves away from the world for a couple months, emerging with their new masterpiece.
The main takeaway here is to know yourself. If you can make writing a habit, things will be easier. Some people will easily develop the habit and will feel lost if they miss a day. Others will have to fight the urge to do something else every day. Remember that you have friends and allies in writing who are cheering for you and waiting to read your novels. The one advice I can give you that I think that works every time is to never give up!