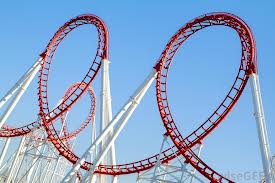 Stow any loose belongings, settle in, buckle up, and hold on for a wild ride.
Great stories are emotional roller coasters that carry readers out of space and time to another place where they can be dropped into pits of despair or thrown high enough to taste glory.  They hurl readers through dizzying loops and heart-stopping drops.  The vicarious ride explores emotions that readers could never dare consider in real life, but that are necessary to understand nonetheless.
I am not a romance writer, nor am I a horror writer.  However those genres prove so successful because they push the limits of opposite ends of the emotional spectrum.  Just as people flock to the wildest rides at Disney to experience the thrills they can't get anywhere else, readers flock to stories that push the uttermost limits of the emotional journey.
Great stories are the ones that tap into our emotions.  The ones that make us feel the story are the ones we love, the ones that really affect us, the ones we can't put down. So as a writer, I need to know how to craft a story to tap into emotions of love and romance while also understanding how to drag my readers down into the shadowy catacombs of terror.  Without those emotions, stories feel weak, boring, uninspiring.
The best stories are the ones we can relate to, and therefore ones we feel the emotional impact of the greatest.  Since we're talking horror and romance this month, let's look at a few examples.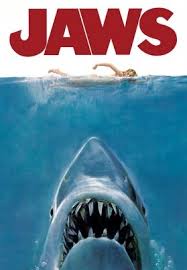 Jaws.  Brilliant.  Even now, when I hear two simple notes played on the piano, it triggers memories of the movie.  For years after watching Jaws as a kid, I couldn't help but think of sharks every time I entered the water, any water.  Even though I knew there was no way a shark could swim inland hundreds of miles to an isolated lake where my family was swimming, I'd still catch myself looking around for fins in the water.  That movie touched on universal fear of being helpless in the water and prey to a creature of the deep.  Who hasn't ever felt that fear?  Because it is so universal, everyone can relate to the characters in the movie, everyone can feel their fear.
That's why horror movies use the dark so much.  That fear of the darkness and monsters hiding just out of sight is another universal fear, one that we can tap into across the entire audience.
Great love stories are a little harder, I think.  People love different qualities, and love is often very complicated.  Then again, some love stories have proven successful through the ages.  For example, Pride & Prejudice is one of the most popular love stories of all time.  Jane Austen proved she could draw in her audience and tap into their emotions better than almost anyone.  Her stories have spawned an entire industry of copycat stories, most of which are set in Victorian England, although other recent successes in that genre include Downton Abbey and North & South.  What makes them work?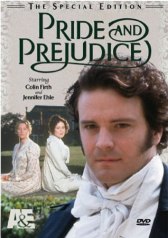 A few of the obvious components include:
– Protagonists that the audience can relate to, who have to overcome challenges that people still recognize today.  It's their struggle to overcome those difficulties that make the audience love them and root for them.
– These stories are accurate representations of human nature.  The culture and times may be different, but human nature remains consistent.  We see people we know in these stories, which allows the audience to connect better.
– Happy endings.  People love to claim they don't need a happy ending, but there's a reason happy endings work.
The most powerful stories are the wildest of the vicarious emotional roller-coaster rides.  The best love stories transport the audience to another time and place, tightly connect them to protagonists whose struggles are relatable and, after torturing those poor characters almost beyond the limits of endurance, return to a happy place that allows the audience to complete the emotional cycle and climb out of the story back to normal life in a good place, coming away refreshed and uplifted.
On the other hand, the best horror stories take the characters on rides that throw them into a pit of evil where they struggle to survive as most of their companions are killed.  The emotional ride drags the audience down into powerful terrors they would never face any other way and, after driving them to the breaking point, bring them home safe.  That's why most horror stories end with the one survivor destroying the evil incarnate and limping out of the darkness into the dawn of a new day.  The reader arrives home safe, emotionally spent, satisfied, and newly grounded to face their normal life.
The value of those emotional rides cannot be over stated.  How much easier is it to deal with mundane challenges of our everyday lives after surviving the man-eating shark or the aliens or the zombies?  How difficult are the challenges we face in relationships compared with the obstacles overcome by Elizabeth Bennett and Mr. Darcy?
So get emotional.  It's the only way to make it real.