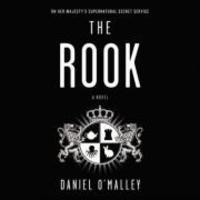 I never thought living in the head of a paper pusher could be interesting, much less awesome, but Australian author Daniel O'Malley proves me wrong in his debut novel, The Rook. Granted, Myfanwy Thomas (pronounced like "Tiffany" with an M, since the Welsh reinvent phenoms as they please) is not your standard bureaucrat. In the opening scene of the book, Myfanwy "awakes in a London park surrounded by dead bodies [wearing latex gloves]. With her memory gone, her only hope of survival is to trust the instructions left in her pockets by her former self." These letters lead her deeper into the rabbit hole, and back into her former life as a high-level operative in the Cheque, a secret government organization tasked with protecting the UK from supernatural threats. The thing is, the old Myfanwy foresaw her own end and left her future self a series of letters and an encyclopedia like binder detailing the milieu. Alone and with these scant resources, Myfanwy must re-integrate into her old life, rediscover her powers, learn about the supernatural world, and handle a barrage of supernatural crises, all while trying to root out the traitor(s) at the highest levels of the organization that had her erased in the first place.
Once the ball starts rolling, O'Malley spins a riveting yarn. In my opinion, his work has two major strengths. First, as a reader, I love the milieu that O'Malley has created. The idea of secret government agencies and the hidden world of magic are well-used tropes in this sort of fiction, but the elements that O'Malley chooses to emphasize make the whole experience seem fresh. Myfanwy is simultaneously a newbie and veteran in this life, and often feels the strain of trying to keep up when everyone around her assumes she'll maintain her docile past persona. Though he spends much of his time in the day to day, O'Malley's narrative style is at times laugh at loud funny, breathtakingly tense and peppered through with moments that lend the reader's admiration and pride to his protagonist.
Secondly, I appreciate this book from the perspective of a craftsman. O'Malley exercises his gift for narrative in this novel, weaving a third-limited perspective of the present with a narrative of the past told in an epistolary style. Like most, he uses the past to clarify and resonate with the future, but where his true skill becomes apparent is when he uses the present to shed light upon the events detailed in old-Myfanwy's letters to her future self. It takes real skill to make the trick work both ways without becoming bulky and distracting to the reader.
I have enjoyed this book twice now and intend to do a third re-read before the sequel, Stiletto, is released by Hatchette in Q1 2015. It is my hope that some of y'all enjoy it as much as I have and that you too are able to learn a bit about the epistolary narrative style while you do. It's a while to wait for the second book, but fortunately my TBR list is long and colorful and has only been added to this month. I'll leave you with the video that I found on Daneil O'Malley's website while researching book 2. It' quite entertaining and captures the spirit and fun of the book.
[youtube=http://www.youtube.com/watch?v=ByWvG3KfOmo&rel=0]