A guest post by E.C. Myers.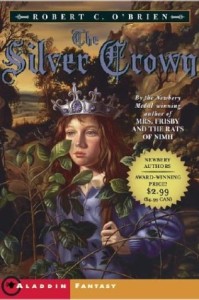 "She had known all along that she was a queen, and now the crown proved it. It was the first thing she saw when she opened her eyes; it lay beside her on the pillow, shinier than silver, glowing softly, with twinkling blue stones set all around. And although it looked hard and solid, when she touched it she discovered that the silvery metal was actually a finely spun fabric, strong but soft as silk, so that if she wanted to, she could fold the whole crown in the palm of her hand and tuck it in her pocket."
I'd bet that most people have heard of or seen the classic animated film The Secret of NIMH. Yes, the one about the rats. Maybe you've even read the Newbery Medal–winning book on which it was based, Mrs. Frisby and the Rats of NIMH by Robert C. O'Brien. But did you know that O'Brien wrote three other equally amazing books? Any one of them could qualify for "best book you've never heard of" (although his last one, Z for Zacharia, is being made into a film), but I want to highlight my favorite of his, The Silver Crown.
The Silver Crown was O'Brien's first book, published in 1968. The story is about a girl named Ellen Carroll who wakes up on her tenth birthday to discover a silver crown on her pillow. Imagining it magical, and herself a queen, she slips out with it for an early morning walk. When she returns, she finds her house has burned down, presumably with her parents, brother, and sister inside. That's a pretty gripping opening, and rather dark for a children's book. It gets even better, and darker and weirder from there: Someone is after Ellen and her crown, and she flees in search of her Aunt Sarah's house in the mountains of Kentucky.
Eventually Ellen meets up with a boy named Otto, and they have some trippy adventures together. Over the course of the book, Ellen learns that a mad king with a crown identical to hers — only black instead of silver — is using (or being used by) a machine called Hieronymus to brainwash and control people, forcing them to do evil things. It all comes to a satisfactory end, though the most recent U.S. reprint features two final chapters: the original ending, which was published in the U.K., and a slightly expanded version that explains more about what happened in case you don't like loose ends.
So why haven't more people heard of The Silver Crown? For whatever reason, it was out of print for decades, though a new edition was finally published in 2001 by Aladdin. Despite it being difficult to find for most of my adult life, I'm just one of many people who never forgot it after reading it at a young age. In my case, I first encountered it in a sixth grade classroom library, and I knew pretty instantly that it was something special. It may have stood out because of its dark subject matter, which definitely stuck with me as I got older, or it may have been its mature themes and accurate representation of the complexity of good and evil. Or it could just be that Ellen is capable and sympathetic, and utterly unlike the hero of any books I had read before.
Now that the book is widely available again (I now own three copies, including a UK edition) I reread it periodically. It still holds up very well for me as an adult, and for more than just nostalgia, because plenty of other books I read as a kid are pretty awful now. *cough* Xanth *cough* Along with the works of William Sleator, particularly Singularity, which also lingered in my brain long after reading it, The Silver Crown has probably subconsciously informed my taste in fiction and my own writing more than any other influences. It may have been one of the first stories I read that straddled the line between fantasy and science fiction and deftly subverted readers' expectations. O'Brien also didn't flinch from dealing with death and murder in a children's story, and featuring both evil adults and helpful adults in a book for kids.
If you look at my first young adult novel, I tried to do some of the same things — taking familiar tropes, blending fantasy and SF, playing off expectations, and letting things get dark and creepy. But perhaps the best impact O'Brien has had on me is the realization that even though he only wrote four novels, but he left a lasting impression on generations of readers.
I have long believed that if I could write a book that readers can't forget, like The Silver Crown was for me and countless others, then I did all I set out to do, regardless of commercial success. Awards and film adaptations are nice and all, but the true mark of success for a writer is reaching appreciative readers…and perhaps twisting their minds a little so they'll never be the same again.
Guest Writer Bio: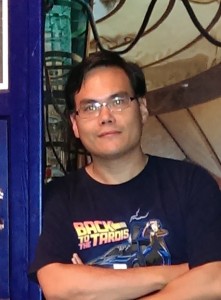 E.C. Myers was assembled in the U.S. from Korean and German parts and raised by a single mother and a public library in Yonkers, New York. He is the author of the Andre Norton Award–winning young adult novel 
Fair Coin
 and its sequel, 
Quantum Coin
, as well as numerous short stories in anthologies and magazines. His next YA novel,
The Silence of Six
, will be out in November 2014 from Adaptive Books. You can find traces of him all over the internet, but especially at http://ecmyers.net and on Twitter: @ecmyers.