A guest post by Moses Siregar III.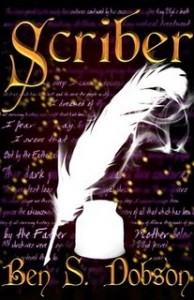 Hi, my name is Moses Siregar III, author of THE BLACK GOD'S WAR. I'm an indie author, and I have a confession to make. Lots of books by indie authors are … pretty bad. I know you're shocked, so I'll give you a moment to collect yourself, to put the shattered pieces of your former paradigm back into a working perspective. Yes, it's true. Most indie books … well, they often suck. But not all of them.
And definitely not Scriber by Ben S. Dobson. This one is actually one of my favorite fantasy novels of all time. You can usually find the ebook available for a great price, which is great because I think it's as good as just about any new fantasy novel I've come across in the last five years or so. It's a great read.
Told in first person, Scriber's narrator is, on the surface, a difficult character. Dennon Lark is incredibly flawed. We might even call him a self-hating wimp. But he works. Brilliantly. His first person narrative doesn't feel artificial because he's a historian, and because Dennon is somehow easy to root for.
Scriber also features a band of female soldiers. The leader of the company of female soldiers is an inspiring figure and a powerful warrior named Bryndine. She's a wonderfully noble character, and (fun fact) after reading Scriber I started playing a female paladin in a D&D campaign. I really had to fight the urge to name my character Bryndine.
What have I learned from Scriber? The problem is that I enjoyed the book so thoroughly on my first read through it that my critical mind practically turned off. I knew as I read it that I would need to read the book again someday to attempt to unlock its secrets. How did Ben S. Dobson write such a compelling, enjoyable (stand-alone) first person novel with such an incredibly flawed major character? Well, I wish I knew. Someday I need to figure that out. In the meantime, you can read Scriber for yourself. I think you'll really enjoy it.
Guest Writer Bio: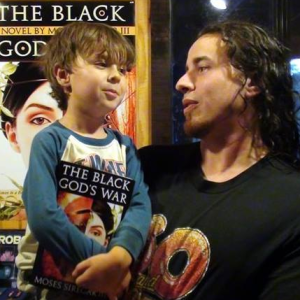 Moses Siregar III is the author of THE BLACK GOD'S WAR and the upcoming Splendor and Ruin trilogy. Book #1, THE NINTH WIND is scheduled for release on July 27
th
, 2014. He's a co-host of two popular podcasts, Adventures in Scifi Publishing and Hide and Create. Find him on Facebook at
www.facebook.com/MosesSiregar3
or on Twitter at
www.twitter.com/MosesSiregar
.