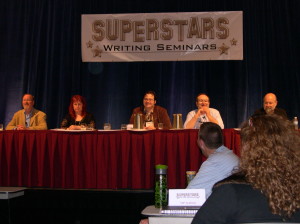 When I went to the first Superstars Writing Seminar in Pasadena back in March of 2010, I thought I was going to get some sound business advice from successful writers – and I did. In spades. I had many expectations which were all exceeded by lengths of football fields. I also thought I'd meet people and make some nice acquaintances – wrong. So very wrong. I made friends. Lifelong friends and writing peers and a writing family we now call The Fictorians.
I remember clearly one night in Pasadena, we were walking back to the hotel after a night of food and beer at a local pub. I was talking with Kevin J. Anderson and I was saying that the group of him, Rebecca Moesta, Dave Farland/Wolverton, Brandon Sanderson and Eric Flint reminded me of the Oxford group that met regularly to talk writing which included C.S. Lewis and J.R.R. Tolkien. I asked how a group like that formed because it seemed to enhance everyone's writing and careers.
Kevin said, "Look around."
I did and what I saw were all the people who I'd been hanging with at every break and meal. The ones who'd gravitated together and felt a connection. I saw people I liked, respected and thought had awesome ideas they were working on in their writing. I saw people like me. People who wanted to be writers, took their writing seriously and were taking steps to succeed in this cool and difficult profession.
When I looked back at him, he said (and I paraphrase), "You're doing it. Right now. With these people. This is how groups like that are formed."
We left that seminar, with emails in hand and a goal to stay connected. We live all over the world. We write in different genres. Some of us have met in person again in Las Vegas for one of ours to renew her vows to her lovely husband. We've seen each other at other Superstar Seminars since the first one. We have conference calls and stay connected via email and social media. We have areas of expertise that the others can tap into with a simple request. We're friends and peers.
I have one other writing group that I feel this way about, and I value those friends as well.
So, when someone asks me what is a moment that makes me love being a writer, I think of my friends and fellow writers. The people who support me and keep me motivated. Who inspire me. Who share a dream with me. These are people who keep me going when times are hard.
Because I'm a romance writer, I use the 'L' word a lot and I'm going to use it now. These are people I love for all they give me and pull out of me and share with me.
It's four years later, and Kevin was right. We've become one of those groups. We've been through bumps and growing pains. People leave the core but remain on the peripheral, some return, some never left, but we're still together, doing what we love and supporting each other. We are the Fictorians. And I think we're Fictorious!