If you're a writer, you've probably heard this sage advice: write what you know.
Our experiences help shape who we are and what we believe about the world, so they can be valuable veins to mine when it comes to writing. No one person in the world has had the same combinations of experiences as you. However, many have had similar combinations of experiences and have lived in the same time as you. That connection of shared, similar experiences can help engage readers and draw them in to your book. This is why the saying, "Write what you know, " is so popular in writing circles.
But this advice isn't the end-all be-all. Plenty of arguments can be made against it.
What if a physical handicap has limited the writer in combat experience, but the writer wants to write a medieval sword fight?
What if you're a boring person? Do you just write about owning seven cats at one time because that's what you're familiar with? What not showering for three days does to the human body? Not clipping your toenails for three months?
While those topics can be very interesting and you should totally write about those, perhaps there is room for adding more information to your story even if you haven't yourself experienced it.
This month, the Fictorians will discuss personal experience verses imagination: which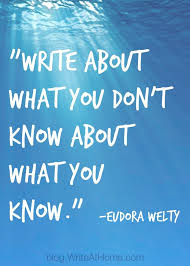 is more important and where the two intersect. We'll also consider how far you can/should/maybe shouldn't go to experience what your characters experience. We'll include some interesting experiences we've had, which may or may not include learning how to deal with post-combat stress, retracing Nikola Tesla's footsteps, butchering our own meat, and breaking bones.
Later this month, we'll get an exclusive interview with Fictorian Frank Morin, author of the series The Petralist.
Now we're curious. In the comments below, please tell us how far you've gone to gain experience for writing!