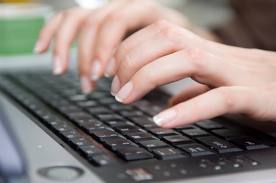 If I could go back to when I started writing, I would have treated my writing time differently. I would have started off treating it like a job and not a hobby and creating good habits. How would I do that? Glad I asked!
First, whether I was writing part time or full time, I would set a schedule and stick to it. If all I had time for was fifteen minutes a day right before bed or a half hour before I went to work or if I had the luxury of writing several hours a day, I would set that time aside and hold it sacred. It matters less how much time you have available than that you use it the way in which you need. At most other jobs, we're expected to arrive at a set time, work for a set amount of time, take lunch at set times and leave at a set time. And while we're there, we're expected to accomplish certain tasks. This is what we're paid to do. And you're writing career should be no different, if you expect to make money from it someday.
So, I need to show up when I'm expected to, keep to my schedule and do what I'm expected. I am my own boss on this and I need to keep my employee-self on task. This not only helps me treat my writing professionally, but it tells others it's a job I take seriously. Family and friends can be terrible sources of distraction whether they mean to or not. When they try to encroach on my scheduled work time, I would say what I'd say if I were at any other job, "Sorry, I can't. I have to work." Schedule lunches, meetings, errands and such for other times that aren't your work time.
Second, write. Seems obvious. It isn't. If I could go back, I would set aside other time for writing related tasks that are not writing. Checking email, reading articles/blogs/books about writing, plotting, editing, doing research, staring at the ceiling thinking and a list too long of other related things are NOT writing. They are all things I need to do in my writing career, but they are not writing. They are things I can usually do other times or squeeze in around the edges in little bits of down time. Some I can even do on commercial breaks at night while watching my favorite shows. And if I have to schedule time to do them, then I would. But I would not let it infringe on my sacred writing time, my work time (whatever time I had set for that).
Third, I would advise my early self to keep writing if I'm stuck. Crap can be fixed. Holes can be filled. Transitions can be built. But nothing can be done with nothing. So, if I'm stuck in the current scene. I can make some notes on what I'm thinking at the time and go to a different scene and work there. At least I'm doing my job.
I would tell me to take my job seriously. If I don't, why would anyone else? And if I take my job seriously, then I will get my work done. I will finish stories. I will produce the necessary product to get it out there no matter in what way I choose to get it out there. You can't query, edit, revise, sell, publish or market a product you do not have.
Yes, writing is an art. It takes creativity, but as Dave Farland/Dave Wolverton once told me, I can train myself to get into that creative mode really quick through good habits. Treating it all as a job, going to your work space at the set times you are scheduled to work and getting to it are the habits needed to train your brain to put on its creative work clothes quickly and get to your job.
After years, I still struggle with some of this, but the more I practice and ingrain these job habits, the more I get done and the better writer I become. So, that's the advice I would give me if I could go back.
I'm looking forward to the rest of this month because as a professional, I'm always looking for better ways to improve my work, my work space, my work habits, and my work mentality.