A guest post by Mark Leslie.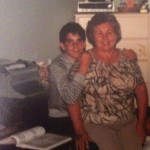 For almost as far back as I can remember I knew that I wanted to be a writer. One of the most prevalent memories was the summer that I spent down in the basement hammering out a Dungeons & Dragons inspired fantasy adventure novel. There I was, thirteen years old and hunkered down with my notes, my hand-written first draft, my research material and the typewriter, working hard at typing the revised draft of what I felt was an epic that the world was eagerly awaiting: The Story of Aaron Boc. The rise and fall of a noble barbarian whose name would ever be hailed in the history books of my fictitious universe.
My friends were out on their bikes, hanging out at the beach or playing football or baseball to pass away those two precious summer months that seemed so fleeting to a child. And I remember, clearly, feeling the angst of not being with them, not participating in the social activities that I really wanted, because, to me, finishing that novel was something I wanted even more.
So it seems that, even at that young age, I knew in order to be a writer, you had to actually write. And that meant making time for writing, which often involved sacrificing other activities that you might be doing at that same time. I later found a quote from Hugh Prather from his book Notes to Myself that reads: "If the desire to write is not accompanied by actual writing, then the desire is not to write.
So, no, I wouldn't go back to ensure that my younger self knew the importance of carving time, ideally every day, in order to write, and that would mean lots of sacrifice.
I might be tempted to ensure that the thirteen year old Mark knew that it was okay to suck in the first draft; that you could always revise and improve upon mistakes from the first draft when you wrote the second one. But it appears that the thirteen year old Mark who hand-wrote the first draft before typing in the revision had already begun to appreciate that concept.
But when I look at this young and eager writer, I do find something that I believe I can share with him after three decades of experience as a writer who has come to embrace both traditional publishing and self-publishing.
I think I might tell him that, despite his deepest inner belief and the thrill coursing through his heart, that the world isn't waiting to read his stuff.
Yeah, I know, it seems cruel to tell him that, but that statement would immediately be followed by the fact that while the world isn't just waiting, breathlessly, for his epic novel, there WILL be people who will enjoy his writing enough to eagerly anticipate his next piece. And THAT is what counts.
No, there won't be hoards of people flocking to bookstores asking, every day, if the next Mark Leslie book has arrived. But there will be some folks who, having enjoyed his previous works, seek out his latest.
The lesson, I suppose, is for him to not lose focus on the story he is trying to write, and ensuring it's the best possible story, true, entirely, to itself, and nothing else, if perhaps a single adoring reader. That if he pauses and tries to consider the larger picture, of how that story might appeal to a broad, mass audience, he might lose sight of the actual readers who are quite pleased with the words that naturally flow from his pen.
Write the story you feel deep inside. Be true to the tale that you are creating. Don't worry about whether or not the masses will love it – worry about whether or not you love it, whether or not the story is honest and real. Be true in that first draft, and then work at polishing and carving out the uglier bits in the second and third drafts.
And sometimes the entire manuscript becomes an ugly bit that will never see the light of day, but indeed does contribute greatly to your craft and skill. The Story of Aaron Boc and the sequel novel written the following summer, The Search for Aaron Boc remain in drawers and will likely remain there permanently. They weren't the best written books, some might even suggest they were terrible, but they were written with heart and passion, and the process of writing them taught me so much about the mechanics of plot and sub-plot, of character and setting. I had to write those novels in order to hone my skill. And that ongoing learning as a writer never goes away.
Oh, and I'd also suggest that the younger Mark enjoy the feeling of having hair while he still can, because as fleeting as the thrill of having finished and published a work can be, so too can that fleeting moment in life where one's hair is thick and rich and full.
But if I start offering advice about things like that, we could be here all day. And you have stuff to write, don't you?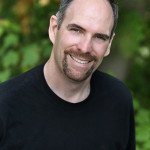 Guest Writer Bio:
Mark Leslie
lives in Hamilton, Ontario and has been courting a serious addiction to writing since discovering his mother's Underwood typewriter at the age of thirteen. The editor of speculative fiction anthologies such as
North of Infinity II
(2006),
Campus Chills
(2009) and
Tesseracts Sixteen
(2012), Mark also writes a series of non-fiction paranormal books for Dundurn which include
Haunted Hamilton
(2012)
, Spooky Sudbury
(2013) and
Tomes of Terror: Haunted Bookstores & Libraries
(2014). Mark's first full length novel,
I, Death
is out in the fall of 2014. When he's not writing, Mark tacks "Lefebvre" back onto his name and works as Director of Self-Publishing & Author Relations for Rakuten Kobo, Inc. where he heads up the
Kobo Writing Life
team.
Images: 1) Mark Leslie at the age of thirteen, working on his "epic fantasy novel" while his cousins play video games and his Baba tries to get him to stop writing and come eat some lunch. 2) Author pic