A guest post by Guy Anthony De Marco.
I've always enjoyed going to conventions. After getting back into writing professionally following a 20-year hiatus, I decided to see if I could get on a couple of panels at my local cons. It looked like a lot of fun, and since I was used to talking in front of people due to my time in the college teaching trenches, I thought I could at the very least be entertaining.
The first convention I approached was already booked, but the programming chairwoman noted there was one panel on H.P. Lovecraft that only had two people on it. She graciously invited me to participate, and I accepted after I sent in my credentials.
Around this time, my son expressed an interest in going to a convention, so I invited him along. I was quite sure he would enjoy himself.
Unfortunately, at this point the villain made his entrance. This antagonist was dressed in the suit and tie of the convention chairman.
The two folks who were already on the panel were the Guest of Honor and an author I personally admired. I sat through a couple of panels with my son, parked in the front row. He enjoyed most of the panels, as did I. When it was almost time for my panel to start, I started to stand up.
The con chairman walked up to the front table and said (on an open mike to a packed room full of fans and attendees) that there was someone "that nobody had ever heard of who wants to be on the panel. He won some award from a small pro organization and nobody has read his stuff. Do you want this nobody to sit on the panel?"
I was taken aback, and my son was too.
"If he bothers to show up, we'll see if he's just a wanna-be and sort him out," the panelists said.
I sat down in shock. The panel went on for only twenty minutes before it fizzled out and they ended it. Most of it was a bashing session by the Guest of Honor. They never even got around totalking about things like how much Lovecraft valued his friend, Algernon Blackwood, or his formative years before he became a writer. I had actually put in hours of research, looking for stuff that the average reader might not know.
My son was very angry as to how I was treated. He doesn't attend conventions anymore.
At this point in our story, I was full of doubt, fear, and yes, even loathing when it came to being on panels. It's only natural to feel despondent at getting rejected, particularly in front of a room full of strangers. In some ways, it's the same set of feelings that convince some writers to give up writing after their first rejection by an editor. I could have just shriveled up and hid under a rock. For my sake, and to set a good example for my son, I decided to swallow those negative feelings and applied to be on some panels at MileHiCon in Denver.
This time, even though they did not know who I was or what I wrote, they treated me well and placed me on a couple of panels. The experience was night-and-day different. My son didn't attend, since he had decided conventions were not worth the effort. Too bad, because I think he would've enjoyed attending MileHiCon. The panels went very well, and the programming chairwoman said she heard positive feedback. Ever since then, I've been invited back every year to sit on panels.
So, what's my bottom line? You are going to have setbacks in your career as an author. You will have times where you are treated like dirt. You very well may feel unworthy because of someone who disrespects you—sometimes in front of a huge audience.
You can duck your head and decide not to stick your neck out, or you can give it another try. As long as you act professionally and avoid any negativity originating from your camp, you have an excellent chance that your second "debut" will be the one you remember fondly. I ended up becoming fast friends with several of the local authors from those panels, including frequentFictorians contributor Quincy J. Allen.
Trust me, it's worth the effort.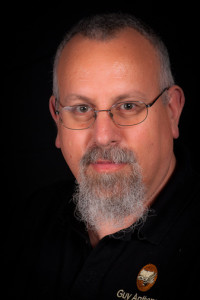 Guy Anthony De Marco Bio:
Guy Anthony De Marco is a speculative fiction author; a Graphic Novel Bram Stoker Award® finalist; winner of the HWA Silver Hammer Award; a prolific short story and flash fiction crafter; a novelist; an invisible man with superhero powers; a game writer (Sojourner Tales modules, Interface Zero 2.0 core team, D&D modules); and a coffee addict. One of these is false.
A writer since 1977, Guy is a member of the following organizations: SFWA, WWA, SFPA, IAMTW, ASCAP, RMFW, NCW, HWA. He hopes to collect the rest of the letters of the alphabet one day. Additional information can be found at Wikipedia, GuyAndTonya.com, and GuyAnthonyDeMarco.com.