A guest post by Lisa Mangum.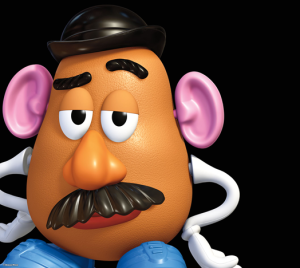 Strong characters are memorable characters, and memorable characters can make or break a story.
So how do we build strong, memorable characters? By taking our lead from Mr. Potato Head, of course! After all, the key to three-dimensional characters is to have three-dimensional characteristics.
When I start building a new character, I like to think about every facet from head to toe. And Mr. Potato Head makes it easy to remember the key elements of a strong character, and which questions to ask (and answer) during character development.
I begin with the eyes. This goes beyond choosing the color or shape of your character's eyes. When you think of your character's eyes think about what it is they see. How does he perceive the world around him? Does he look at his environment as something to conquer, or something to survive? When he looks around, does he see an urban setting—or something more rural?
Thinking about these kinds of questions helps you know where your character is coming from before you move him into a different environment. Contrasting the past with the present can create interesting insights for future change.
But don't just look outside your character. Look inward too. How much introspection does your character require? Are they confident in who they are? Why? Why not? It's important for you, as the author, to know where and how they fit into the world around them because it allows you to come up with personalized conflicts for your characters.
When I think about Mr. Potato Head's large, pink ears I try to imagine what it is he hears, and the same goes for my character. If my character hears compliments more than complaints, he's going to believe certain things about himself and behave in a certain way. Likewise, if all he hears is negative comments from those around him—or from himself—then he will believe negative things about himself.
Is my character the kind of person who listens to gossips? What kind of music does he like? Does he need things repeated, or does he understand ideas the first time he hears them?
And after listening, what does he say? Mr. Potato Head has so many mouths to choose from: smiling, frowning, with teeth, or sticking out his tongue. Mouths can be quite expressive, and not just for the literal method of expression.
Obviously, your character's mouth is used to deliver the story's dialogue—a key element to revealing plot and character—but when examining your character's dialogue remember to go deeper than just what he says. Figure out why he says what he does. Does your character use slang or pet phrases? Is he a liar? Does he prefer silence to speaking?
Remember: Words can be used to hurt as well as heal. For some characters, they can be weapons.
Then comes one of the most important questions to ask a new character: What is his goal? His heart's desire? To help me remember this question, I think of Mr. Potato Head's bendable arms, wide open and reaching for his dreams.
We all have something we want, and your character should be equally as passionate about his dreams. If you spend some time evaluating and identifying your character's "nice to haves" and "have to haves," you will know how to withhold the fulfillment of those dreams and desires, and therefore you can force your character into action, into growth.
A character in action is a character with strong motivation. To hone in on your character's motivation, ask four questions:
What does he want?
How is he going to get it?
What is going to stand in his way?
How will he overcome that obstacle?
Mr. Potato Head doesn't really have legs, but he does have large, solid feet. When considering your character, consider his feet. Where does he stand? What does he believe? What will he fight for? What will he die for?
It's important for characters to have strongly held values and beliefs. Characters with well-defined values—even if you as the author don't agree with them—make for compelling, interesting, and memorable characters.
Characters with conviction are characters who can carry a plot—and who can change things.
Eyes, ears, mouth, arms, feet: five easy characteristics to remember that can help you build a better character.
Lisa Mangum attended the University of Utah, graduating with honors with a degree in English. A lifetime lover of books, she has worked in the publishing industry since 1997, editing works by several New York Times bestselling authors as well as debut novelists. She was recently named Managing Editor of Shadow Mountain Publishing.
Besides books, Lisa loves movies, sunsets, spending time with her family, and trips to Disneyland. She lives in Utah with her husband, Tracy. She is the author of four award-winning YA novels (The Hourglass Door trilogy and After Hello), a short story ("Sold Out"), and novella ("&"). She also edited One Horn to Rule Them All: A Purple Unicorn Anthology.
You can find her @LisaMangum or Facebook.com/lisamangum.