A guest post by Joshua Essoe.
In part one we talked about if you should go all the way, how to decide, creating tension in all the right places, and what position you should take. Tonally speaking.
Today, let's get into some specifics of when you're trying to verb the adjective noun.
Your characters should inform everything that takes place between them. Who are they? Are they gregarious and shameless? Well then, yeah, a character like that might just throw their clothes off, give strip teases for the thrill of it, and view kisses as fun but meaningless.
Is your character shy? Well that character is very unlikely to just throw their clothes off or have sex in a changing room. Maybe they want the light turned off first, maybe they kiss tentatively, and slowly, maybe they need their partner to undress first.
And let's not forget about laying down complications, hiking up tension, and stroking inner conflict. Maybe your character feigns confidence and it gets tested terribly when things heat up. Maybe they're worried about some perceived physical defect. Maybe the character is married or committed to someone else–what kind of inner conflict would that engender? How would that other relationship inform their choices in the romance with someone else? Are they in love with two people at once?
Let's get deeper into the question of how far you should push.
Just like any other scene, you focus on what you want your readers to focus on. And that is what your specific character would be focused on. What does your viewpoint character find attractive and sexy about the character they are with? Both physically and in their personality, their movements, their smell, the sounds they make. Maybe that shameless character is turned on by having everything articulated. That character definitely likes the dirty dirty. Maybe that shy character is focused on the eyes and minute facial expressions. Use all the senses. What is going to make it interesting and unique are the specific details you use. The more specific and narrow you make your focus, the sexier the scene will be. And yes, sometimes that means you'll be writing about what parts go where and what that feels like.
The way you inform your readers of that, what words you use, will depend on your characters, the tone of the story, and how you've set it up. There should always be some words on your Do Not Fly list. Let me suggest a few:
Turgid, adj
Purple, adj/noun
Fleshy, adj
Wrinkled, verb (If this is an adjective, then please don't send me this MS.)
Pert, adj
Moist, adj
These are not sexy words. Even penis. Penis is not a sexy word. They accurately describe something, sure, but analytically relating what a thing is, or what a thing does, does not sexy make. Likewise, be careful with the placement of your sexy words because it will be hard, err, difficult to keep from using them over and over. Keep track of those little buggers or everything is going to end up wet, or hard . . . or turgid.
But, like everything else in writing, it is a careful balancing act. Just like any other action scene, don't go overboard with your descriptions or you'll bog down your prose, and kill your pacing and interest. When I say focus in and use specific details I don't mean that you should describe every single movement or action taking place. You can leave some things to your readers' imaginations. They'll fill in the blanks.
Be aware of the tropes. There are a lot out there, but here are some common ones:
The woman or man is unattainably attractive.
She has an apparent willingness to have sex with the male protagonist, usually as a means of manipulating him.
The female character is duplicitous, and either secretly evil or forced to act that way for some reason.
Rape. I can't tell you how tired women, in particular, are of reading rape used as a tool to garner sympathy, or stoke conflict. But that is a separate article.
One final note. It's worth talking about the actual, physical writing of these kinds of scenes. I heartily recommend your local Starbucks if you want the dude with the Beats by Dre, the man in the pinstriped shirt, and the cute, spikey-haired girl sneaking stares as your face flushes, your breath quickens, and you start to sweat. Just please keep your hands on your keyboard at all times.
Or maybe you should plan to write these things in private. And then you can let your hands do whatever they gotta do.
Wherever you chose to write your dive in the dark, don't stop, once you start. Going halfway into the scene, then pulling out for a break kills your own tension and takes you out of the flow. It would be like texting with your buddy while you're bed-pressing with your partner. Just like in real life you want the process to go smoothly without interruption. Write the whole scene in one ecstatic burst. Do not go back to read what you've written. Do not count how many times you've used the words "moist," and "pert." It doesn't matter, don't break your rhythm.
That means do not stop to edit yourself! The scene might suck, but that does not matter, just like any first draft, you'll have your chance to go back and massage it into splendor later.
If you've never written a sex scene, and maybe even if you have, you may feel embarrassed, or even scared enough that you can only manage a tag to yourself, "put the sex stuff here." For those of you that this applies to, take heart. You don't have to view writing sex and romance as writing a sex scene or writing erotica. You're just writing a scene. That's it. You'll do great. Let your characters guide you, listen to them, just as you would with any other scene, and write.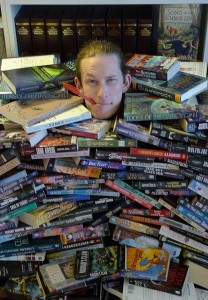 About Joshua Essoe:
Joshua Essoe is a full-time, freelance editor. He's done work for best-seller David Farland, including the multi-award winning novel, Nightingale; Dean Lorey, lead writer of Arrested Development; best-seller, James Artimus Owen; and numerous Writers of the Future authors and winners, as well as many top-notch independents. He is currently the copy editor at Urban Fantasy Magazine.
Together with tie-in writer Jordan Ellinger, indie success-story, Michael J. Sullivan, and traditionally published author and NY Times best-seller, Debbie Viguie, he records the weekly writing podcast Hide and Create. 
When not editing . . . ha ha, a joke. He was a 2014 finalist in the Writers of the Future contest, and lives with his wife, and three horrible cats near UCLA.