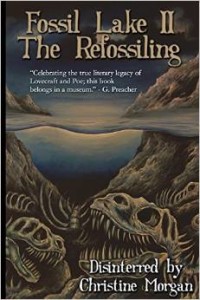 Last year, fans of lovely monstrosities, dark secrets and long-lost nightmares ventured to Fossil Lake, a place where things perhaps best left buried stirred in the sediment beneath the water in an Anthology of the Aberrant.
This year, horror fans who've faced the darkness and find themselves hungry for more can return to the Lake in Fossil Lake 2:  The Refossiling.
"Red Ochre," my contribution to Fossil Lake 2, allowed me to address one of my greatest regrets about my story in the first Fossil Lake.  I wrote a previous Fictorians article *here* about the experience of writing "Mishipishu:  The Ghost Story of Penny Jaye Prufrock."  Mishipishu was set at a summer camp for kids and, like the summer camps I went to at that age, I gave the lake and its legend names from Native American folklore.  But I remained cognisant of the fact that there's something culturally appropriative about the way summer camps used Native names to suggest wildness and closeness to nature, and yet rarely had any Native staff, Native campers, or instruction on any aspects of Native culture beyond the shameless borrowing (stealing?) of names and ghost stories.
I used the Native names as a matter of authenticity – this is something summer camps did, and some still do.  But I felt a certain lingering regret for the way that Native American identity had been stripped away from these names.  Longtime readers may recall an article earlier this year where I talked about how changing the point of view character helped make my contribution to Fossil Lake 2 into a stronger story.  If you missed it, you can find it here.
"Red Ochre" has been my opportunity to tell a scary story through the eyes of a Native American character, Meesha.  Meesha is torn between her shaman uncle, urging her to learn more about her heritage and her people's traditional beliefs, and her parents, who want to see her as a successful, respected member of the wider society.  Meesha wants to fit in with the other students at her school, but she recognizes that elements of both her own history and her people's change how others view her.  She had hoped that a camping trip with her friend, Perry, could give her a much-needed vacation.
Unfortunately, Perry is more than he first seemed.  And so, too, are those legends her uncle swears are true.  Meesha finds herself caught in the riptide of history, and its current threatens to drag her away…deep down into the waters of Fossil Lake.
If you'd like to take another dip in the Lake, Fossil Lake 2:  The Refossiling is now available in Print and Kindle editions.
And if you've never been, the first Fossil Lake Anthology is still available, also in your choice of Print or Kindle.
So come on in.  What are you waiting for?
The water's fine.