A hard-drive crash. A single corrupted file. An inopportune Bluescreen of Death. Your rickety old 386 DOS-machine coughs up semi-colons and expires in mid-sentence.
Perhaps it happens after several hours of writing, wherein you have finally squeezed gold—GOLD dammit!—from your fingertips. The chapter you've been working on was near perfect. You are the next NYT bestseller, the next National Book Award winner.
Perhaps your computer crashes in the middle of your brilliant opus.
Perhaps you retire for the day, unaware that horror has spawned, try to open up your project the next day and bask in the glow of its brilliance, and find … you don't find it at all. It's gone, gone, GONE!
This is, of course, the Writer's Worst Nightmare, right up there with that one where they call your name to the podium to accept your Hugo/Nebula/Booker Prize/Oscar and you realize you've forgotten to put on clothes.
I'm here to offer you a way to make that nightmare go away forever. I use a couple of tools that are useful in and of themselves, but together, form an ironclad system for saving your work, susceptible only to nuclear apocalypse or alien invasion.
Dropbox—Dropbox is a service that lets you save all your documents in a regular-looking folder on your computer. The Dropbox folder acts like every other folder on your computer, except that all those files sync to all the devices linked to your account, computers, phones, tablets, etc. You can access your work from anywhere.
Your work is also saved on the Dropbox website, and here's one its most valuable features: from the Dropbox website, you can access previous versions of your files. In effect, it saves your work at every step along the way.
Basic Dropbox is a free service, up to 2 GB. This is plenty of space for basic writer stuff, and I used this alone for several years until I finally outgrew it. For $9.99/month, you get 1 TB of storage space.
Scrivener—If you've been around writerly circles much, you've probably heard of Scrivener. Maybe you're using it already. Developed by Literature and Latte, Scrivener is a writing package that focuses on the creative and organizational aspects of writing. It works on a different philosophy than MS Word, so each has its strengths and weaknesses. I still use both, but for different things. Scrivener, however, is what I use for creative writing. It's so versatile that I'm still learning all the features, but here's the part that's relevant to this discussion.
Scrivener basically saves your work by the keystroke.
By the keystroke.
Dropbox + Scrivener = Nightmare-free Writer Dreams—Perhaps you're starting to see the usefulness here when these two beauties are synergized (that's my 50-cent word for the day). Put your Scrivener project files into Dropbox, and your work will be constantly saved by the keystroke, and automatically backed up to the Dropbox cloud in real time. This work also syncs whatever devices you connect, simultaneously.
But what if your file gets corrupted?
With Dropbox saving multiple versions of your files, you can restore previous versions, which minimizes the damage file corruption can cause.
If you're averse to Scrivener, even saving your Word files in Dropbox helps minimize the damage caused by corrupted files. You can customize how often Word autosaves in the Options menus.
This combination once saved me about a week of work on a novel, which in other circumstances would have been lost. I was able to go to previous versions of the files in Dropbox and recover the version where three chapters had not been mysteriously eaten.
About the Author: Travis Heermann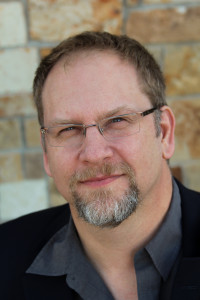 Travis Heermann's novel Spirit of the Ronin, will be published in June, 2015.
Freelance writer, novelist, award-winning screenwriter, editor, poker player, poet, biker, roustabout, he is a graduate of the Odyssey Writing Workshop and the author of Death Wind, The Ronin Trilogy, The Wild Boys, and Rogues of the Black Fury, plus short fiction pieces in anthologies and magazines such as Perihelion SF, Fiction River, Historical Lovecraft, and Cemetery Dance's Shivers VII. As a freelance writer, he has produced a metric ton of role-playing game work both in print and online, including the Firefly Roleplaying Game, Legend of Five Rings, d20 System, and the science fiction MMORPG, EVE Online.
In 2015, he's moving to New Zealand with a couple of lovely ladies and a burning desire to claim Hobbiton as his own.
You can find him on…