As I said about Scrivener in my previous post, Jutoh is also a software program that can make you cry with joy or frustration…probably both. In both cases, I had to spend a lot of time on Youtube, forums, and the help page in order to figure it out. Other than the fact that they're both extremely useful, the similarities end there.
Jutoh is a program designed to take your already written book from word processor format to ebook format, and it does its job well, including links, artwork, font, drop-caps, etc. You can write within the program, but I wouldn't generally suggest it. My only exception to that might be game design. When I put together my game module, The Hologames, for Sojourner Tales, I outlined the game elsewhere but because of the intra-document links required, it worked well to do the writing within Jutoh.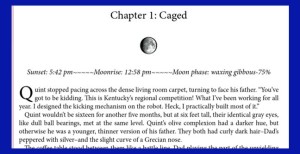 Though I don't generally use the program to write, I've never seen a program that can compile ebooks better, especially if you want some professional touches. To the right, you'll see an example of a book manuscript in progress.  This is the way it will look in epub format. This is a rough version, and I'm not finished with it yet, but it should get the point across. I can use graphics in my title or with my title, drop caps are a cinch, I can customize page breaks, etc.
When I'm done assembling my chapters, copyright page, title, contents (all linked, of course), glossary, author page, etc. I hit the "Compile" button and it puts everything together in the format of my choice: epub, mobi, ODT for smashwords (yes, this is a little different), and a number of other formats. I find that running my book through Jutoh then sending it back to Word  in odt even makes for a cleaner document to prepare for pdfs and paper publishing markets.
Loading a document to createspace or kobi can be a fairly easy process, but often there are mistakes that you won't see until your readers point them out to you. After compiling, Jutoh has another handy button, "Check." Though problems that don't really exist might come up, it tells you that it's not likely a real problem. And real problems always come up. Wouldn't you rather deal with them before you send your book out to the world instead of finding something you need to fix months after readers' annoyance.
Last, but certainly not least, is the "Launch" button. With the download of a couple of other free software programs, Jutoh allows you to view your finished document in mobi, epub, and other formats. I can't tell you how many mistakes I've caught just by looking at my book as it will appear to readers. It may be aggravating to fix, but it's nice to get that aggravation over and have the confidence of a well-done product when you launch.
Last year, I won the first-ever IndieRecon Live Total Package Book Award. I credit much of that success to Jutoh. I put in a well-written novel, and Jutoh helped me knock out a great looking format. The combination allowed me my blissful moment of fame.
How about you? What's your favorite way to get your book out into the world?
Bio: Colette Black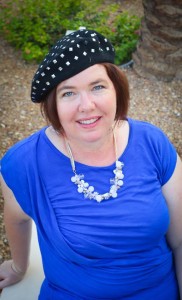 Colette Black lives in the far outskirts of Phoenix, Arizona with her family, 2 dogs, a mischievous cat and the occasional unwanted scorpion.  She loves learning new things, vacations, and the color purple. She writes New Adult and Young Adult sci-fi and fantasy novels with kick-butt characters, lots of action, and always a touch of romance.