After a while, I think I start to sound like a broken record, returning to certain themes over and over again. These themes really motivate me and speak to me as a writer and as a person. One of them is the reality that we all exist in communities. Writing communities, yes, but also families large and small, towns and cities, countries, work environments, and professional groups. And these communities are important ingredients in shaping who we are—and we become. Though it may seem at times like we're alone, cast adrift on the lonely frontiers of human experience, that's usually not indicative of our reality.
Writing can feel especially lonely—and that's one of the reasons we first started this blog four and a half years ago. Has it really been four and a half years? Sometimes it's hard to believe. In fact, our blog is approaching a big milestone—next week!—which is why I've found myself ruminating on the theme of community once again (as I mentioned, I've done it before). The milestone in question? Our 1000th post. That's right, folks. We've gone four digits, and there's no looking back.
There's going to be a lot going on this month. As you've noticed, we've got ourselves a new and improved website to make your Fictorians experience more enjoyable—and yes, hopefully more practical. And as usual, we're going to bring you a wide range of bloggers, all with different perspectives and stories relating to the community theme.
But we've got something a little extra to bring you this month, and that's free stuff. Lots and lots and lots of free stuff. In fact, we have seven prizes to give away every week. You read that correctly. More on that tomorrow, so hurry back for all those juicy details.
Check back all month to hear from the usual suspects as well as guests bloggers like Rachel Anne Nunes (believe me; she's got a story to tell!), Sherry Peters, and Petra Klarbrunn. Together, our message will be clear: we're not alone—and neither are you. Stick around, be inspired, and win some prizes. Does it get any better than this?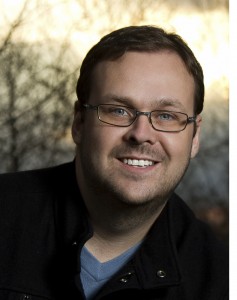 Evan Braun
is an author and editor who has been writing books for more than ten years. He is the author of The Watchers Chronicle, whose third volume,
The Law of Radiance,
has just been released. He specializes in both hard and soft science fiction and lives in the vicinity of Winnipeg, Manitoba.