So what kind of year has it been? A year of transitions—although that may not be saying much since it increasingly seems that all years are transitioning to and from one thing or another. The idea I once held in my imagination of a stable life and career seems more far-fetched every day.
The reality is that I didn't make much overall progress on my fiction in 2016, although the business of my writing life is a different story. After a four-year absence, I dove back into the convention pond (I attended two, When Words Collide in Calgary, Alberta and World Fantasy in Columbus, Ohio) and emerged with some excellent prospects. I had a very good year in my writing-adjacent day jobs, as a newspaper owner/editor and freelance book editor. I broke ground on a novel which I expect to be my most challenging and ambitious project to date; it's the sort of project that keeps you up at night for the sheer excitement of plotting it out.
And yet I didn't actually do very much writing, an ugly truth which I must stare down. In the face of this, it can be small consolation that I've greatly strengthened the infrastructure of my life. I must do better in 2017. It's as simple as that.
Let me talk about those convention appearance, which I came back from energized to produce more and better work. Every time I attend a convention, it solidifies my certainty that there's a market for my writing. That's the value of conventions, but they are really hard.
Well, maybe they're not hard for everyone. For me they're nigh impossible. Gone are the halcyon days when I went to my first conventions and filled my days with programming. It didn't take long to realize that the panels are mostly doesn't come at all naturally to me. You need the ability to walk up to strangers, or near-strangers, and find something to talk about instantly—without seeming needy and pushy. This is quite a tightrope.
Because that's what you're there for. You're generally not there to listen to a panel of novelists talk about the importance of map-making in fantasy literature, nor are you there to listen to well-established professionals wax eloquent about their decades-long careers and the generally pretty unrelatable logistics of publishing fifteen-volume epics. Those are definitely perks, but eventually you'll realize that those panels are more or less all the same, and they don't get you from A to B. You could get a similar result from an afternoon browsing YouTube clips.
I spent the first evening of World Fantasy returning periodically to my hotel room to steal precious alone time, breaks from the stress of wandering through the convention halls looking desperately for people to talk to, like a feral animal.
At one point, a friend of mine said to me that most of the people there were just like me and they were wildly faking their smiles and easy-going manners. He pointed out that a majority of writers are probably introverted shut-ins, which explains why they would be attracted to a field where so much of the work happens when you're, well, very much alone.
But anyway, you don't spend hundreds (thousands) of dollars on convention fees and airfare and hotel rooms and pub food only if you're going to actually dive into that pond. So when the second day dawned, I pulled on some swimwear and got wet. The water was excruciatingly cold at first, and only slightly warmer by the end when I finally crawled onto shore like a beached whale, but damn it I came away with a couple of manuscript critiques and some short story anthology opportunities. (One of those opportunities came when an editor inadvertently dumped his entire beer all over me, a soggy mess which ultimately paid off handsomely by weekend's end.)
It's not comfortable, and it's not my favorite part of the job, but I've already booked a couple of conventions for 2017 and hopefully it won't take me so long to acclimate this time.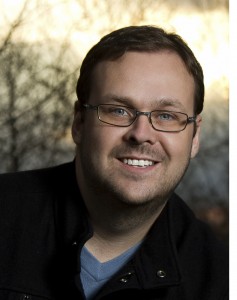 Evan Braun is an author and editor who has been writing books for more than ten years. He is the author of The Watchers Chronicle, a completed trilogy. In addition to writing science fiction, he is the managing editor of The Niverville Citizen. He lives in Niverville, Manitoba.