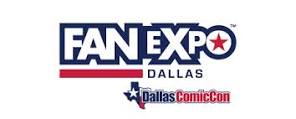 Fan Expo Dallas – (Dallas Comicon) – May 29 – 31
Flying down to Dallas for the Comic con felt like a bit of a gamble, at first.  I was investing hundreds of dollars in flights and hotel, with the prospect of selling maybe a handful of my own books.  So it was never going to be a money-making venture.  The Scrooge side of me winced to think of the expense.
It was an investment, and it paid off in so many other ways.
Dallas was my second-ever comicon, and a wonderful learning experience.  As a writer, I wanted to learn how to attend big conventions from a vendor perspective even more than as a fan or a geek of all things sci-fi and fantasy.
The challenge for new writers like myself, with no experience at cons, and with only a small number of books self-published to-date, is daunting.  The solution was to volunteer at the Wordfire Press vendor booth.  My experience is similar to Kristin's excellent post on September 2nd – Volunteering at an Author's Booth.  Some of what I'm going to say will overlap, but I feel the topic is important enough to merit a second account.
A lot of people go to comic cons, and after attending two of them now, I can see why.  They are a lot of fun.  About 60,000 people attended Dallas Comic con, and I was impressed by how enthusiastic and polite they were.  We sold a ton of books, met a ton of fans, and saw tons of cool cosplay costumes.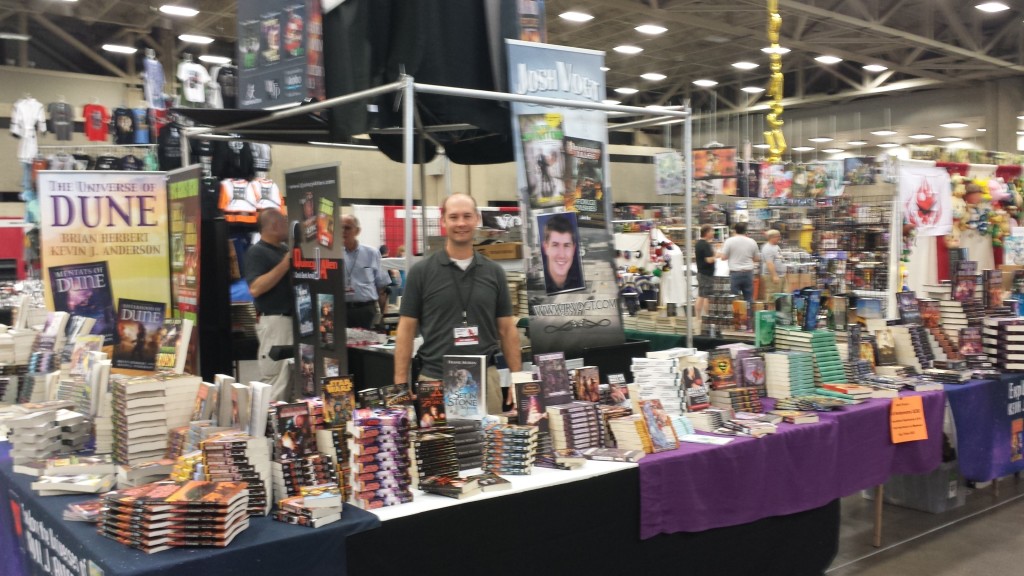 Check out this awesome booth!  Sorry it's just a bit blurry, but it offers a glimpse of what things looked like as we were kicking off the con.  Within three days, a majority of those books were gone.
The con paid off huge in networking, pure fun, and in deep immersion into the world of con vendors.  Volunteering at such a well-run booth was a professional-grade learning experience.  Here are a few benefits of choosing this route to explore cons:
Learn from the experts.  Quincy J. Allen, Alexi Vandenberg, Peter Wacks, and of course, Kevin J Anderson, have many cons under their belts and years of experience.
Yes, I helped them sell a lot of books, but I feel I benefited at least as much.  I learned how to:
Set up the display, which was far more involved than I had ever considered.  Making all those pretty stacks of books is not as easy as one might think.
Pitch other authors' books.  What a great chance to learn about hundreds of books I may or may not have ever seen before.
Initiate conversations with the eager, often distracted, con goers to encourage them to pause and consider buying books.
Prepare the fundamentals, like having cash for change and sufficient numbers of credit-card-ready devices to process the many sales.
Sell a LOT of books.  The Wordfire Press booth was 20×20 in size, and packed with so many books, that photo of me above was one of the few times I actually fit behind the table.  Much of the con, I was stationed in the aisle because there wasn't enough room for all of us behind the tables.  We sold boxes and boxes of books.
I spent long days with other volunteers, most of them other authors, discussing books, publishing, and getting to know them as people.  I made new friends and added a number of books to my I-have-to-read-this list.
AND – I got my book on the table.  I have to admit, Set in Stone looked right at home among all of those other books.  Made me feel like a peer, like a player in the game, not just a hopeful onlooker, still waiting on the bench.  I even sold seven copies.
I didn't need to fork out hundreds of dollars for my own tiny booth that would only have my own, tiny inventory.  And I didn't have to man the booth alone for the entire time.  We worked as a team, which offered flexibility in everyone's schedule.  Nor did I have to pay for my ticket to attend the con.  As a volunteer, WFP provided the pass.
Sometimes as writers, we tend toward becoming introverts.  Can't do that at a con.  Since I often couldn't fit inside the booth, I planted myself outside and talked with everyone scurrying past, asking them what kind of books they liked, and suggesting other titles that might appeal from the offerings on the table.
I joined the group that worked the long lines of waiting, eager con-goers prior to the opening bell, handing out postcards from Wordfire Press with the booth number written in large numbers in bright marker, repeating that yes, Kevin Anderson would be at the booth, yes he would sign books, and no, he never charged for his signature.
I also learned a number of things NOT to do at a con.
Don't, under any circumstance, sneak copies of your business card, flyers, or other materials onto other vendors' booths.  Really, it happens, and it's incredibly annoying.  Several times, we discovered other peoples' materials on our table.  It's a form of stealing, and it's always in bad taste.  Those materials always went straight into the trash.
Don't forget to eat or take a break when you need it.  The booth was so busy, with so much going on, I hated to leave, even when I really needed to.  Find a balance.  Take care of yourself.  Especially at a booth like WFP, there are others to cover while you're gone.
Don't hold back.  People who attend cons are there because they love sci-fi and fantasy, and they're enthusiastic.  They may not buy something, they may not have time to talk while rushing to a panel or to get in line for a celebrity signature, but otherwise, I found people happy to discuss their favorite books, and open to the idea of finding new ones.  Be outgoing, and people respond.  The day passes so much faster, and it's so much more fun.
Don't forget to take photos of the great costumes.  I enjoyed seeing hundreds of quality cosplay outfits, but only remembered to take photos of a few.  Most of those turned out blurry, so I kick myself for not being more aggressive with the camera.  Cosplayers love getting their pictures taken.  That's one of the reasons they're at the con.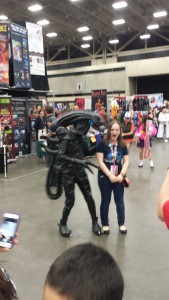 Thanks to my volunteer experience with WFP, I've developed a pretty solid understanding of how a successful booth works.  I'll be attending the SLC Comic con in just a couple of weeks, again with the WFP team.  There, I'll take the next step in expanding my con experience by participating on a couple of panels.  I'm very excited to be involved, although the process of getting onto a panel at a big con can be tricky, and needs its own dedicated post.
There are so many reasons to go to conventions, and volunteering at another vendor's booth is a great way to test the waters and start learning how it all works.
The specifics:
Dallas Fan Expo:
Located at the Dallas Convention Center
Hotels weren't clustered around the convention center as closely as they are in some other cities.  I ended up having to walk about ½ mile, but weather wasn't too hot.  In fact, Texas was in the middle of their record-breaking rainy spell, and I was lucky I wasn't drenched.
I actually had trouble finding the dates for next year's con, but I believe it will be the first weekend in June, 2016
About the Author: Frank Morin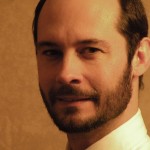 Frank Morin loves good stories in every form.  When not writing or trying to keep up with his active family, he's often found hiking, camping, Scuba diving, or enjoying other outdoor activities.  For updates on upcoming releases of his popular Petralist YA fantasy novels, or his fast-paced Facetakers alternate history fantasy series, check his website:  www.frankmorin.org