A guest post by Brent Nichols
(And if you think that's hard, I had to write about writing about writing)
We write. It's what we do. Fiction, mostly, and if we're lucky we have readers. It's when we don't have readers, or we want more, that we sometimes have to resort to writing of a different sort.
Fiction comes more or less naturally to me. My head's full to bursting with imaginary characters, and sometimes I let them out to play on the page. It hardly seems like work, most days. The sense of work comes when I'm doing the other kind of writing. You know, the tedious reality-based kind. Especially when I face the tricky problem of writing about my own writing. But every so often, if I'm lucky, even non-fiction writing – even thorny non-fiction writing about my own fiction – manages not to be work. It even manages to be fun.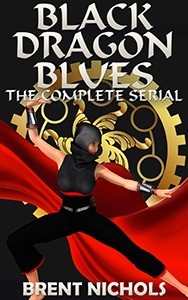 A couple of years ago some entrepreneurs approached me, wanting to feature some of my self-published steampunk fiction on a new website they were launching. I was happy to agree – until they told me they wanted a couple of blog posts to go with it.
Having already sweated through the ordeal of making blurbs for the stories in question, the last thing I wanted to do was write even more about my work. However, being a sucker for direct appeals to my ego (hence my appearance on Fictiorians), I reluctantly agreed.
But what could I tell the average web-browsing reader about my work that would make them keen on picking up my stories?
I decided to write about the reasons I wrote steampunk fiction. Now, there are many reasons I turned my mad keyboarding skills to that particular sub-genre. Laziness in high on the list. Steampunk offers the cool gadgets that make science fiction fun without the tiresome need in most science fiction to be sure your gadgets would actually work. It offers the entertaining trappings of the nineteenth century, but being an alternate history, it spares the efficiency-minded writer all that pesky research. In a world where Queen Victoria commands a flying navy, most anything goes.
Sloth on my part, however, hardly seemed like a selling point to my droves of potential fans. So I dug deeper. I wanted a blog post that came alive for the reader, and I found myself thinking back to a time when I felt that spark myself, that shiver of excitement that came along all unexpected and made me, suddenly and for the first time in years, excited again about writing.
I was floundering in the doldrums of discouragement, the dream of writing like a faded picture of something I could remember being keen about, when I decided to attend the first ever When Words Collide festival. That was where I encountered a call for submissions to Shanghai Steam, an anthology of steampunk/wuxia fiction.
Just like that, my perspective on writing changed. All the eager excitement of my teenage self came flooding back. That call for submissions had two things going for it: It was cool (I mean, come on! Kung Fu action and steampunk? Who can resist that?) and it was specific. There were exact requirements, down to word count and cultural influences. I could stop floundering around and tackle a sparkling world of possibilities with a clear framework to guide me.
This, I realized, was the essence of what I needed for my blog post. Why did I write steampunk? Because it's so damn cool. And how would I communicate that thrill to my readers? By being specific.
After that, the blog post seemed to write itself. I wrote about nineteenth-century technology, the glory days when the most wonderful machine you could imagine was still accessible to a clever person, something you could take apart and tinker with in your basement. A time when the world was enormous and exotic and full of unmapped corners. And a genre that said, never mind exactly how it actually was. What if? What if, in addition to all the grubby bits, there were airships and walking robots and clockwork birds? What if we took an entire genre and said, never mind that it won't quite pass a rigorous historical or scientific examination? It's marginally plausible and it's cool, and that's justification enough.
We don't have Barsoom anymore. We lost Tarzan, too. We know too much about Mars and Africa and the universe for those grand adventures to survive. But we have steampunk, and it's awesome.
That's how you write about your writing. You look past all the details you've been buried in. You dig deep and look for that buried gem of excitement that got you started on the story in the first place. If you can communicate your excitement, readers will be excited to read what you created.
I sent the blog post off, and then I forgot all about the blog and the website. I was too busy to give it another thought. Because the post had the same effect on me that I wanted it to have on every reader – it made me want to drop everything and go read some steampunk.
Brent Nichols is a science fiction and fantasy writer, book cover designer, and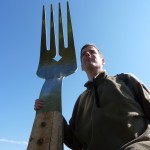 man about town. He likes good beer, bad puns, high adventure, and low comedy. A native Calgarian, he is a member of the Imaginative Fiction Writers Association and is the author of the War of the Necromancer series of sword and sorcery novels (available at a fine ebook retailer near you). See his book cover designs at
www.coolseriescovers.com
 or visit his w
ebsite at
www.steampunch.com
.