Quick, describe a writer! I'll wait, like, ten whole seconds for you to think of one.

. . .

Okay, got it? Now let me guess:

They're a brooding loner in disheveled, dark clothing that reeks of chain-cigarettes and sadness. They're crouched over a computer in a dimly lit, smoke-filled room, alone, sipping at another whiskey as they write their demons onto the page. They've been awake much too long, but sleep is an evasive beauty because there are deadlines to meet. And even if there aren't, there are. The deadlines live inside them, monsters kept at bay only by copious amounts of coffee drunk by the pot. Their family is widowed, and their friends mourn, but one day they hope the writer will emerge and join them again.They're writing about humanity and how people relate, don't you know. It's deep, important work and no one really understands their genius. They're a martyr suffering for their art, and the long night isn't over yet.

Oh, and it's 8 o'clock in the morning.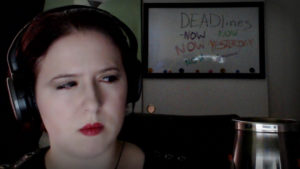 But of course that's a stereotype and no one *ahem* would ever live up to it.
And maybe there is some truth behind the fact that artist-types are driven to create, and have a higher correlation with mental illness, but we don't have to romanticize insufficient self-care to take pride in the work we do.

Please, take care of yourself. The art isn't more important than you; no one else believes that. Your friends and family love you. They want to see you. Isolating to write can help you focus, but come out now and then to connect with the world. Drink your water. Get some sleep. Make a schedule. See appropriate doctors and therapists if you have the need and the means. Take your medicine. Get your chores done so you can focus on writing. Get your writing done so you can spend time on what's important to you.

Eat the damn kale if you want.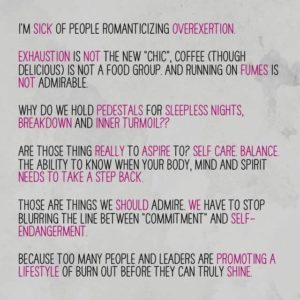 Being in pain and over-tired and stressed constantly doesn't necessarily make the story better, and it's not worth the human cost even if it did. If you're working on writing as a career, consider it a second job. You'd get sleep and eat and prepare and set aside time for your Breadjob, right?

Having a regular writing schedule and maintaining your health the best way you can, whatever that means for your specific needs, creates stability, which can help your writing career in the long-term, because it helps you maintain yourself and balance your life.

The best we can do, is to do what we can with what we have. Things will happen. There will be times when things creep up, and things are thrown off. Maybe we or someone we care for gets injured or physically ill. Maybe there's a flare-up of mental illness, or common stressors from Breadjobs and relationships. There will be things that will try to throw you off, and by taking care of yourself, you'll be able to weather them easier.

Most editors and publishers are human with things like 'feelings' and 'empathy'. Scientists are still looking into whether or not there are facts to back that statement up, but in the spirit of unbridled optimism I'm going to believe it's true.

You've taken care of yourself so far, right? That's helped you meet your deadlines, and you've progressed as you've liked? But things happen. You've given yourself the best chance you could to weather this so far, so you'll be more likely to handle it and still keep your obligations.
And if you can't because of conflicts, or you need to prioritize yourself now so that you have a future later, most people will understand and work with you. You're doing your best, and taking care of yourself, and they're sure to have seen that.

Granted, even some Breadjobs won't see it that way, but the rant against differing value systems within a capitalistic structure is for another day. Breadjob or Writing Deadline, you gave yourself the best chance and are doing what you can with the situation as it is.

Life's hard enough. Torture your characters instead.

…now if you excuse me, my pot of coffee is ready.