A critique or criticism from a critique group or a review can make an author feel like something's really gone wrong, even to the point of doubting yourself. How do you handle criticism? Story Doctor David Farland has sage advice on the issue. He kindly agreed to let us reprint two posts: Taking Criticism (today's post) and Dealing With Criticism (tomorrow's post). Thank you David!
Ace Jordyn
PS: read to the bottom to find out how you can download a free book with over 200 of David's favorite writing tips!
A Guest Post by David Farland
www.mystorydoctor.com
An author has to take criticism as part of his job. That isn't always easy. After all, if you get too much criticism, a couple of things happen.
First off, you begin to doubt yourself. You might even want to surrender and quit writing completely. I've seen hundreds of people quit writing because they couldn't take criticism—even very accomplished writers with dozens of novels under their belts.
The second thing that might happen is that you might begin to become too defensive, telling yourself that "The world is full of idiots," none of whom recognize your true brilliance. You've probably all met that kind of writer before—all ego. Some of these writers are indeed quite gifted, but once you quit listening to others, inevitably as a writer your skill begin to diminish, until at last you shrink away into obscurity.
The third thing that might happen is that you find yourself confused just as to whom to believe, and so you find yourself running down blind alleys, trying to write works that please your spouse, your writing group, or anyone else—but which don't really feel real and vital to you.
So you have to try to sort through the various critiques that you get and try to figure out which ones to respond to and which ones to ignore. I can't tell you how to do that. I don't know you as a writer, and I don't know who your critics are.
I can tell you that if you're getting advice from someone who seems mean-spirited, you had better watch out. I've known writers in writing groups who have tried to destroy one another, and in some cases they succeed. So listen to people who mean well.
But also be aware that there are some good reasons why even excellent critics sometimes misread a work.
The first reason that comes to mind is that your critic just quit reading or shut down too early. Something in your work might be perceived as an error when in fact it is not. Let me give you a couple of examples.
I once got the movie Inglorious Bastards and sat down to watch it with my wife. The movie starts out like a standard holocaust movie—beautifully shot and acted. Well, that's just boring to me at this point in my life. Then we meet the Inglorious Bastards, a group of assassins who go out to scalp Nazis, and the violence was so over the top that my wife and I just kind of looked at each other and said, "Hey, let's shut this thing down and go to bed early."
A few weeks later I was talking to a friend who was very impressed with the movie. I told him of my own early impressions—both justifiable, both perfectly correct—and he said, "Yes, but you didn't see what the writers were working toward. It has one of the most powerful and brilliant endings I've ever seen." So we got it on video and watched it. Holy cow, he was right! The movie is in fact a starkly realistic fantasy about how Adolph Hitler is killed by the Jews in the movie theaters. It's a metaphor for how one group of people will often dehumanize others. It creates perhaps the most brilliant and complex emotional states at the very end that I've ever seen, where the audience laughs uncontrollably while a dumb American soldier carves a swastika into the head of a Nazi. We laugh, even though everything in the movie tells us that this is wrong, that we shouldn't be dehumanizing one another!
In short, I shut down a bit early.
The same thing happened to me a couple of days ago. A woman wrote and said that she loved one of my books, but she had closed it and tossed it away on page 199 because she felt that I had a "breast fetish."
Well, that's just perplexing. I've written entire novels where I've never mentioned breasts. However, in this case in my novel In the Company of Angels, I felt they were necessary. Part of the story is told from the point of view of Eliza Gadd, a woman whose family pulled handcarts across the prairie in 1856. She's nursing twin boys at the time, and the arduous journey causes her to lose her milk at the same time that all of the other women in camp—and the cows—dry up. As a result of this, one of her children quickly becomes ill and dies. Her husband, guilt-ridden, begins to give part of his meager allowance of food to his other children, and he soon starves. Her ten-year-old son, trying to take over the responsibility of the man in the family, soon takes ill and passes away, too.
It's a pattern that happened throughout the Willie Handcart Company as they trekked across the prairie. So I felt that it was important to write about it. The image of mothers struggling in vain to nourish children on this journey crops up perhaps half a dozen times.
Does that mean that I have a "breast fetish?" Probably no more so than any other confidently heterosexual male.
What it does mean is that I introduced an element into my story that I knew would make some readers uncomfortable. I did it in order to create a more powerful effect at the end of my tale. In this case in particular it seemed like the right thing to do. It introduced a level of embarrassment, of emotional discomfort, that I believe that the protagonist must have felt on the journey.
This is a trade-off that as writers you will find that you sometimes have to make, to sacrifice one effect in order to achieve another. Your story can't be all things to all people. It can't be a feel-good comedy and a tragedy, for example. So to make that trade isn't necessarily a mistake, it's just an artistic choice.
So as you dissect your critiques, be aware that sometimes there are valid reasons for a reader's reactions. In short, you may both be right.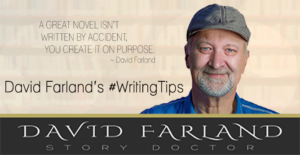 David Farland is an award-winning, New York Times bestselling author who has penned nearly fifty science fiction and fantasy novels for both adults and children. Along the way, he has also worked as the head judge for one of the world's largest writing contests, as a creative writing instructor, as a videogame designer, as a screenwriter, and as a movie producer. You can find out more about him at his homepage at
http://www.davidfarland.net/
. Also check out more great advice in his book
Million Dollar Outlines.
And take some of his online workshops at
http://mystorydoctor.com.
Now for the free book! Anyone who signs up for David's newsletter can download a free book with 100 of his favorite writing tips–that's over 300 pages of writing tips! Check it out at www.mystorydoctor.com.