Who do comic-book people call when they need some damage control?
They call…superheroes!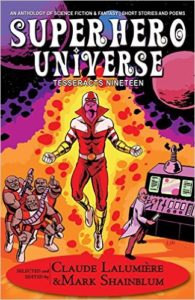 Superhero fiction is a fast-growing sub-genre of speculative fiction.  Why do I call it a sub-genre?  Because it doesn't fit easily into sci-fi, fantasy, or horror.  While some heroes could easily be classified as science fiction (think Spider-Man and Silk, who were bitten by a radioactive spider, or Superman and Martian Manhunter, who are aliens) others have powers of a more magical, fantastic bent (think Doctor Strange, or any of the number of heroes whose origins are based in religious mythology–Thor, Etrigan the Demon, Wonder Woman, etc).  There are also heroes like Black Widow and Batman, who, while more physically fit and more intelligent than the average human, don't have any "super human" abilities, whether scientific or magical in nature.  And while heroes like the Guardians of the Galaxy zip around outer space in true space-opera fashion, many–like Captain America and Captain Marvel–live in a world that's very like our own real world.  One could almost call it urban fantasy, except it's more like "urban sci-fi" in their case…
The speculative fiction mash-up that is the superhero sub-genre has long ruled Western comics.  Superhero movies and TV shows aren't "new," and neither are tie-in novels based on superhero comics and their associated movies.
What's "new" is the way that the superhero sub-genre has gone mainstream.  Movies like Captain America: Civil War and TV shows like "Jessica Jones" aren't just for kids, teens, and comics nerds.  (And movies like Deadpool are definitely not for kids!) The appeal of superheroes has become much broader.  And, with that appeal, people with "powers" (whether or not they're traditionally "heroes") are appearing more often in places outside comics–places like novels, short stories, and anthologies.
Tesseracts, the long-running Canadian speculative fiction anthology, celebrates superheroes this year in its 19th anthology.  Superhero Universe stars superheros of all sorts, from their pulpy beginnings to their future possibilities!
My contribution to this anthology, "The Island Way," is my first co-authored story.  I had recently finished writing a rather dark, gritty story and deeply wanted a change of pace.  I imagined my husband's grandparents–Prince Edward Islanders, both–wondering "who wanted to spend all day running around in their underpants," and a story idea was born.  A character who was both Islander and superhero, caught between moving to the mainland in search of success as part of a nation-wide team, or remaining unknown and underemployed on her Island.
The story was co-authored because, well, I'm a mainlander.  I wanted to make sure I captured an Islander's voice and mannerisms in an authentic way, and so I enlisted my husband (who's more of a hobby writer) to help me out.  "The Island Way" by Mary Pletsch & Dylan Blacquiere is one of twenty-five superhero-themed stories and poems in Tesseracts 19:  Superhero Universe.
Take home your own Superhero Universe today in paperback or on Kindle.