When I first started writing it was back in the "good old days". By that I mean it was about twenty years ago when the only paths to publishing was 1) to get an agent that could get you a good contract with one of the big boys in New York or 2) self-publish through a vanity press (at exorbitant prices) and accept all the shame that went with it.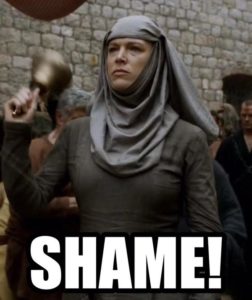 (Seriously, it was just like this. Except without the nudity…and the rotten fruit.)
Thanks to the indie publishing pioneers that hasn't been the case for some time but it was hard for me to rid the stigma from my mind. I know. You'd think that the second word of an easier and more profitable path came my way I'd be all over it. Not so. Working at a bookstore for so long pretty much…I hate to use the word indoctrinated but that's pretty much what it was. When I first started working there I was told by multiple people that self-published books were poorly written books; no self respecting author would ever go that route…etc. Hearing that for a decade, including the first years of the indie-publishing movement, made it impossible for me to see it any other way. It wasn't until I met and befriended some indie authors, and heard them talk about their successes and struggles that I finally saw how the industry had changed.
Those of you who paid attention to the title have probably figured out that this was my change of perspective. So what was my change of course? Four years ago I was still dead set on getting an agent. Now? I have no intention of querying a single one. Why? Because I'm self-publishing my first novel through the company that I will found. Yeah, that's quite the 180 but I feel good about it. I feel that this is the right path; and thanks to my indie friends, I have a really good idea of what I need to do. Despite the stress I'm as calm and composed as Cersei before she dropped the smock and walked the walk. Granted that means that at some point I'll be cold and shaking, wondering "why did I ever think this was a good idea" and that's okay. It's all going to be great!