I've often found that my favorite characters in stories are the trusty side-kick. Let's face it Batman is a little crazy, while Robin gets the luxury of being a little more relaxed. Funny even, in the latest installment of Lego Batman. I prefer Ostin to Michael Vey. In my own Jagged Scars Series Wendy is amazing, but Kev is secretly my favorite. Do NOT tell the others.
Since seeing the topic for this month's blog posts, I've been wondering why I'm drawn to the side characters. Why they make a story great for me? And after some pondering, I think I've come up with my answer.
The protagonist (main character) of the story has a few specific jobs. One of them is to go through the most pain and make the most changes in their lives. Often against their will. That's why we read stories, to see characters fight their own tendencies and eventually rise above their limitations to a new level of "them." Which can make them stressed out.
The side characters, often the best friend, doesn't need to go through quite as much. A good story will give them a character arc, but it's not usually as drastic. Which gives them the chance to be more fun.  They're there to provide comic relief and/or to be a confidant for the protagonist. Or to call the protagonist out when they're off the deep end.
For instance, who tries to warn Frodo about Gollum in the long trek to Mordor? Who hasn't been blinded by pain or regret or the ring? Who carries Frodo when Frodo can't take another step? Sam. That's who. And while Sam goes through quite a bit, his journey is more relatable in many ways than Frodo's. He's concerned about his friend, like many of us would be, and is only trying to help.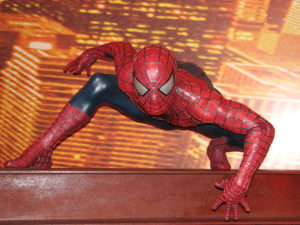 In the newest Spiderman: Homecoming trailer, we see Peter Parker beating up bad guys. It looks like he's having a great time, but Tony Stark warns him to back off. But Peter doesn't want to. He thinks he's ready. He says:
"I'm sick of him (Tony Stark) treating me like a kid all the time!"
Ned, who we've already seen is Peter's best friend (because who doesn't kill a man when he drops your Lego Death Star?), says, "But you are a kid."
Ned sees what we can see as the audience, that Peter is reckless, and probably in over his head. Ned tries to talk him off the ledge. He isn't blinded by the situation like Peter. He can still think clearly, because he's not the one with super powers who wants to save the world.
A hero needs that. Someone to ground them. Someone to make smart remarks when the moment gets too tense. Someone who will come back after the hero pushes them away.
That's why we need friends in fiction.