Since joining the Fictorians last year, I've found my post for each month's topic was pretty easy to put together. The ideas would flow quickly and I would have a very strong idea of what I wanted to say and do.
This month, well I'm not going to lie to you. It's a bit trickier for me. I've struggled to come up with books I've read that contained outright lies or shocking twists. Maybe I'm just not a fan of the right types of books. I don't read a lot that is in first person, and I think that had shielded me from our friend the unreliable narrator. If nothing else, this highlights for me and area I should explore more.
Surprisingly I use twists quite a bit in my own fiction. I think they are a lot of fun to pull off, and a lot of fun for the reader to experience. I think we want to be lied to, as long as its fair. The plot twist that comes out of nowhere with no foreshadowing is frustrating, but the surprise that we had the clues for and just didn't expect is very enjoyable.
I think the plot twist I enjoy the most come in two general categories: "I DIDN'T SEE THAT COMING" and "OH, I HAD THAT WRONG". I'll give an example of each below. For me, I think the former is a lot easier to pull off and mostly involves putting a few signposts (but not too many) on the way to the reveal. The second is much more like a magic trick, relying on misdirection.
I DIDN'T SEE THAT COMING
If you're my age, there's no example of this more burned in most folks memory than Darth Vader's reveal at the end of Empire Strikes Back. There is no scene in the movie (or for me, in the series) that carries as much emotional weight as this moment, and I am lucky enough to have experienced it live in the theatre. It also makes so much of Luke's arc make sense, and introduces a great deal of peril to his future.
(For being a famous twist, it did feel like a bit of a cheat though. Even as a pre-teen, I immediately thought back to Obi Wan's story in Star Wars, which now seemed untrue. I love Obi Wan, but his 'from a certain point of view' speech always felt like an attempt to rationalize the mis-truth.)
OH, I HAD THAT WRONG
I think this model is even trickier. You have to actively steer the audience in one direction while getting them to avoid the second option, all without that action seeming so heavy handed that they catch on. Pulled off correctly, there's this wonderful moment where the reader or viewer feels this moment of satisfaction that you've tricked them, but it was fair. The stakes are higher here though, since you are actively trying to deceive and manipulate your audience. They *want* you to do this, but only if they can't tell you are doing it. It's a delicate dance.
A very good example of this is in the first X-Men film, where everything leads up to the moment where Magneto comes for the mutant he has been tracking. At the moment of the reveal, everyone thinks the target is Wolverine. Wolverine thinks it, the other X-Men think it and the audience thinks it. Magneto then reveals the trick: "My boy, who ever said I was looking for you?" Rogue is his target and the viewer goes back and does the math. It all adds up, makes sense and is fair. We just assumed Wolverine was the target because of how the film presented him as the primary character. The filmmakers played on our assumptions and used them against us. As I said, done well I find this very satisfying. We do, after all, want to be lied to.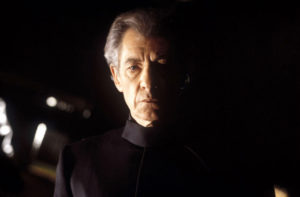 In my own fiction, I have used both of these models. I particularly enjoy hiding my main antagonist in plain sight, only to reveal his or her true nature and intentions later in the story. To what level of success, well I'll have to wait until after publishing to get some real feedback on that.
See you next month!