This month the Fictorians are focusing on posts about what we, as authors, believe sets our work apart, or at least, what we believe makes our writing more authentic and compelling. In other words, what is our "special sauce?"
I'd like to think there is more than one thing that I do which gives my writing authenticity and makes it worth reading, but there is one thing I have done that seems to surprise most people.
My first epic fantasy series is set in a stone age culture, and the protagonist is in training to become a "flint-knapper" which is a person who creates stone tools. In fact, one of those stone tools, a knife, is one of the most important artifacts in the story. His skill with a bow is also critical to the story line.
When I started writing the story, I rapidly came to realize that I was having trouble writing scenes that revolved around stone age technology. I wanted to bring the reader into those scenes. I wanted those scenes to reveal the protagonist's persistence, his struggle to master his craft, and eventually his talent and pride in creating the tools that his village needed to survive.
So I did "research." I searched for every article or paper I could find on the ancient art of flint-knapping. I watched videos. I purchased stone arrowheads and spearheads at flea markets. Like these: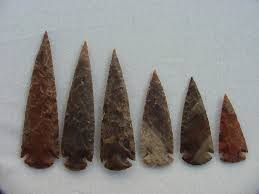 But even after that, I never really felt like my scenes reached that level of authenticity I wanted.
So I set out to learn flint-knapping myself. Luckily there was a little shop on my way home from work that sold rocks. So one day I stopped in and looked around. I got to talking with the owner, and eventually told him that I was an aspiring author who wanted to learn flint-knapping. His eyes lit up, and an hour later I left the store with a cloth sack filled with about twenty pounds of rocks. It turns out that making stone tools requires different kinds of rocks, plus some other tools, like antler tines or something similar. It looked sorta like this: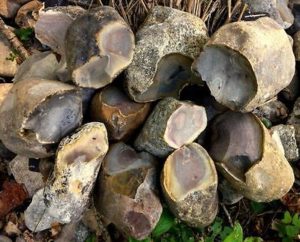 Then I set to work. I spent an hour or so after work and on weekends for weeks, bashing rocks together on my patio. It was a slow, painful and painstaking process, just to learn how to strike a blank with a hammerstone in the proper way to break off a suitable chunk of obsidian to START to make an arrowhead or spearpoint. And learning that took a toll on my fingers and thighs. Eventally I got some thick pieces of leather to protect my thighs and clothes, but there was really nothing you could do to protect your hands and fingers. If you wanted to make stone tools, especially arrowheads, spearpoints or knives, you were going to cut your fingers and hands.
And the cuts were not simple scrapes or splinters. Obsidian has been used to create scalpels for eye surgery because the result of a well-aimed blow will create an edge that is, literally, sharper than a razor. So those cuts bled copiously. My leather thigh protectors were soon stained with blood. This is a pretty good example of what that looked like: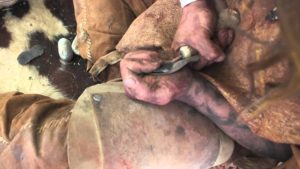 I won't pretend that I ever mastered the art of flint-knapping, but I did get decent enough to be able to make functional tools. But more importantly, I learned enough that when I returned to those scenes, the writing came from a natural understanding of the mechanics of the craft, as well as the risks.
"Write what you know" they say. Well, in this case, that's what I decided to do. And I think it paid off in spades.
So, my fellow authors, when you need to learn something to make your story believable, research it, baby! Research until your fingers bleed!
Mine did.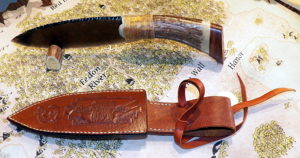 (No, I didn't make this. But this is what the knife in the book is modeled on. This was made by a professional flint-knapper, and is an example of what a skilled artisan can do with stone. My wife and daughter had the sheath custom-made for the knife. It's a pretty cool combo.)