I'm no authority on small publishers. Or big ones.
Oh, you aren't either?
Awesome! Let's learn together.
Let's start from the beginning. What are the differences between big and small presses? What does it mean for you as a writer? You'll have to do research on specific presses, but usually, a larger publisher will have a sizable staff with different departments that can see to the publication of your book from beginning to end, including marketing and advertising. Does this mean small presses don't have these? Not necessarily. Many small presses have all of that as well, but some may not have as large of budgets to spend on marketing and advertising, for example. Some may not have the distribution that bigger publishers have. Each publisher is different, and you'll need to research each you are interested in individually to see what they offer.
First, how can you determine if a publisher is a small or large press? An imprint? Check out this incredibly handy chart made just one year ago that shows the big publishers and their imprints: https://almossawi.com/big-five-publishers/.
Here's an example of one section of the chart:

As you can see from just this branch, the chart is comprehensive, and is a good resource if you want to find an imprint of any of the top (and largest) publishers.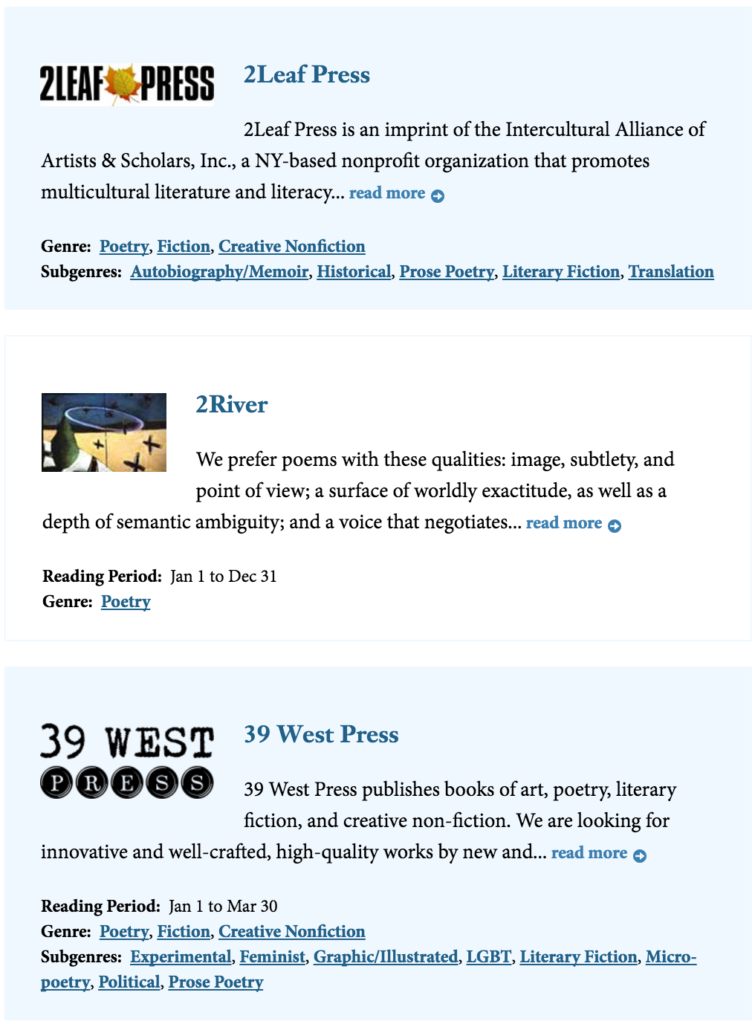 If you've established that the publisher you're looking for isn't an imprint, here's a fantastic resource in Poets & Writers for almost every small press: https://www.pw.org/small_presses.
You'll notice that each publisher has a brief description, their reading period dates, which genre(s) they publish, and any sub-genres. Most smaller publishers should be listed in this comprehensive database, and will include a link to their websites. Read every word of the publisher's website. I mean it! Every. Single. Word. Take a day or seven to consider if the publisher would be a good fit for you and your work.
Compile a list of the small presses that you think would be the best fit.
Once you've considered a number of publishers, small and large and otherwise, what exactly should you be looking for? What questions should you be asking yourself, and what information should you be looking for?

The Science Fiction & Fantasy Writers of America website has an entire page dedicated to information about small presses, including warning signs one should know to look out for when considering a smaller press. While it's a lot of information, it's well worth the read and worth bookmarking for future reference: http://www.sfwa.org/other-resources/for-authors/writer-beware/small/. At the end of the article, SFWA lists a number of additional resources.
Which is the best publisher?
That, my friend, is up to your own evaluation of your writing, your career goals, and the publisher that can best help you achieve your goals. It's all a matter of research and evaluation. Happy researching and evaluating!