What's the recipe for a successful small press? Vision, a love for stories, a desire to discover new voices in story telling, a passion for speculative stories which awe and excite the imagination. Mix that with visionary Margaret Curelas, a lot of hard work and a small press specializing in science fiction and fantasy is created. Margaret's authors speak highly of her and Tyche's reputation is stellar. For these reasons, I had to interview Margaret about her experience owning a small press.

Tyche is an intriguing name with an unusual by-line Fortune Favours the Bold. What is the story behind the name?
We wanted to have a name that reflected our interest in both science fiction and fantasy, and Tyche (pronounced tie-key), does that. Tyche was the Greek goddess of luck and fortune. There's also a planet in the Oort cloud named Tyche, which is the connection to science. And, with the goddess of fortune guiding us, the by-line followed quite naturally.
Tyche's vision is indeed bold – that can be seen in the design of the book jackets and in the stories you've published. The book jackets are stellar – poster quality actually! Not only do they capture the spirit of each story but the jackets are also eye-catching and captivating. You take a lot of care in the design and presentation.
Thank you! Yes, our art director, Lucia Starkey, works very hard on the covers. After she reads the book, she'll come up with a cover concept. With the concept in mind, she'll contract artists best suited to that style and vision.
Your website does an amazing job of letting people know where your books, audio books and ebooks can be bought. However, distribution is cited as an issue when it comes to competing with the big firms. How do you ensure that the broadest number of readers have access to your books?
Print book distribution is not something we worry about. Most of our book sales are digital. Print books are available, of course, and in addition to the local brick-and-mortar stores stocking them, readers can ask their stores to order in a copy (or just order a copy online). Ebook sales are stimulated by discounting books, purchasing advertising for them, and participating in ebook bundles.
Anthologies are part of your repertoire and I see you have another one being produced this year. Is there a difference between producing an anthology and a novel?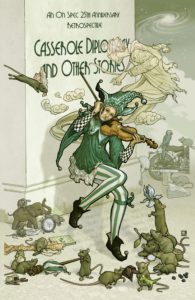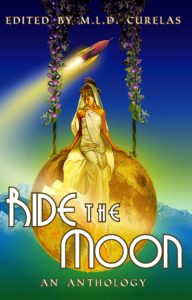 I really enjoy the anthologies–I read a lot of short fiction. After not publishing one for a few years, it felt like the right time to publish another one, especially since Rhonda Parrish is the editor and her proposed theme was one I couldn't resist.
There certainly are differences in producing an anthology versus a novel. The anthology requires more administrative work and higher upfront costs because of the number of people involved. Often an anthology will have twenty people or more, who all need contracts, to be paid, copies of the book, thing like that.
You do what few small presses do – your line includes audio books and also books written or translated into French. What was your business strategy in doing this and what has the reception to the expanded product line been both by authors and book lovers?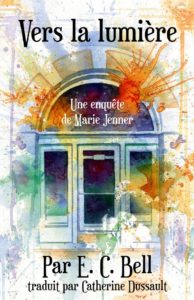 We started producing the audiobooks and translations because we wanted to try something new. Because we're small, we've had to find cost effective ways to accomplish this. For the audiobooks, we worked with narrators who were looking to bulk up their portfolios, so  they didn't charge us an arm and a leg.
It was a similar situation with the French translations. Catherine Dussault wanted to apply for a translation grant, but in a Catch-22 type situation, she couldn't apply for the grant until she already had done some translations. We were able to work with her because she needed that credit.
The new formats are hard! The audiobooks have done all right, but the French books have floundered, mostly because promoting in that market is a skill set we don't have, and don't have time to cultivate. As a result, our audiobook production has slowed, and we aren't planning any additional translations at this time.
What advice would you give to anyone wanting to start a small press?
A small press takes a lot of time and energy, so I would recommend not starting one when you have a young child at home like I did. But, you can't let the press consume you either–make sure to carve out time for yourself, your family and friends, and your hobbies.
What are the advantages of publishing with a small press?
I think the biggest advantage is that we know our authors. They're not just names.
Margaret Curelas lives in Calgary, Alberta, with two humans and a varying number of guinea pigs. After several years working in libraries, she's now the publisher at Tyche Books, a Canadian small-press specializing in science fiction, fantasy, and related non-fiction. You can find Tyche Books on Facebook (https://www.facebook.com/tychebooks/) and Twitter @tychebooks, plus on the interwebs at http://tychebooks.com.