Normally when you establish a setting in a story you only have to do it once. Unless some cataclysmic event happens, it's not going to change enough to require another description. Huzzah! But what if your setting isn't a clearly defined place? What if it's more…well, this.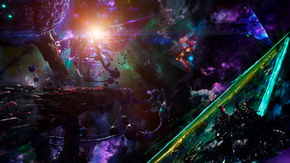 Okay, so your setting might not be the Dark Dimension but it may be like The Demos Oneiroi I created for The Moonflower in that it's less of a landscape and more of an abstract concept given physical form. The Demos Oneiroi is the dream world of the Ancient Greek gods and since it's quite literally the stuff of dreams it can be anything and everything all at once. A place like this, one that can change on a whim, can be hard to explain. Describing it with enough detail to get the point across without overwhelming the reader is a very tricky thing to do. It's like doing a paint by number except all the numbers are imaginary.
The way I handled it is to treat the setting like an unreliable narrator. I established early on that the setting can and does change on a whim and that it's perfectly normal for the abnormal to happen. If a lush forested park suddenly turns into zombie Jimmy Hoffa's waterpark from hell, it's all good. The reader doesn't have to panic or re-read the previous page to figure out if they missed something. They can roll with it and get in the line for the giant octopus tentacle slide.
I hope I didn't lose anyone there. I realize saying "do this tricky thing by treating it like another tricky thing" is not the best explanation; especially if you don't know how to create an unreliable narrator. Don't worry. I'm not going to leave you perplexed. It's not quite as scary as it sounds and I promise, you don't need to make a bargain with an otherworldly being to do this.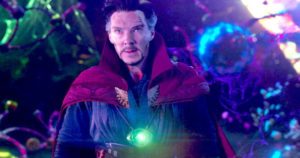 Dormammu, I've come to establish setting.
Since I keep throwing Doctor Strange references into this let's use that film as a starting point. (Spoiler alert.)
https://youtu.be/cPKq7JuQDvg?t=2m36s
In this acid trip on film we see multiple worlds, not all of which obey the same laws of physics that ours does. Besides blowing Stephen's mind, it's also establishing in the minds of the audience that there are many strange place the story can take us. So when Stephen does go to the Dark Dimension at the end of the film, we're not shocked by it — especially since we've already seen weirder locations.
How do you create that on the page? In order to write an abstract setting you have to approach it in pretty much the same way that they did in the film. Start out by describing the setting as it is in that moment to create a base line. Then either through dialogue or a bit of exposition establish that things in this place aren't necessarily what they appear to be, and that they won't stay as they are now for long. It's important to let the reader know that it's gonna get a bit weird so they aren't taken by surprise. A shock like that will knock them out of the story before you get to the really good stuff. After you've prepped them for the coming shift that's when you can make the unexpected appear. How you do that, you may ask? Well that's up to you. My favorite way is to have an inexperienced character encounter a shift in the landscape while accompanied by a more experienced character. The experienced character displays their knowledge and saves/helps the less experienced through until they're back at a safe spot. This way I get to let my landscape live up to its potential while advancing the less experienced character's development. Later in the story I can have them on their own, facing the same dangers — or worse — in that same landscape and it's more plausible that they'll survive.
It's okay if it takes a few revisions to really get it to work well. It is a tricky thing but the freedom it gives you to create and be original makes it a lot of fun. Plus, a setting like this never gets boring. Bonus!