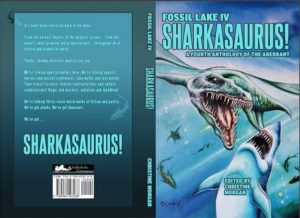 Have you been swimming in Fossil Lake?
Be careful if you do.  There's something in the water…
…and it's got teeth.
The first two Fossil Lake anthologies explored the beautiful horrors of Fossil Lake.  The third, Unicornado!, mixed fantasy, disasters, and terror.  Now, for the fourth, we're back at the Lake and it's now hosting some very toothy critters in its depths.
Sharkasaurus! draws inspiration from monster movies, Jaws, and Jurassic Park to take on our fears of what lives in the dark water.  Proving that gory and funny aren't necessarily opposites, my story, How to Make a Monster, puts a new twist on the old mad-scientist character so often responsible for The Brain That Terrorized The City…
A female academic, taking the fall for ethics violations, moves to the tropics and tries to rebuild her life to the tune of Jimmy Buffett songs.  But when the land sharks start mawing down on tourists, and her old co-worker shows up to track down who's responsible, this mad scientist has to say, if you can't beat 'em, join 'em….
Plus thirty-six other weird works of fiction prose and poetry.
You can catch your own Sharkasaurus in print on Amazon or in ebook on Smashwords.